Here we are at December, with all of the closures and quarantines having pretty well confined most musical groups to such measures as Zoom sessions. We even hear that Christmas will be delayed until some time in January, so Santa can quarantine for two weeks. So, with time on my hands, and since December happens to be my birth month, I decided to do a bit of reminiscing instead.
Early band days
My plan was to start by referring to a band photograph I've been looking at from time to time for the past many months. Of course when I actually went to get it to refer to it, Murphy's Law prevailed. It has disappeared and is not likely to reappear until this column has arrived at the printer. Ergo, rely on memory.
My band days began in Windsor when two school pals told me about the band that they played in. Jimmy Rees (cornet) and Keith Finney (tuba) took me to a rehearsal and introduced me to Mr. Arthur Laley, bandmaster of the High Twelve Boys Band, an all-brass band in the British tradition. As the name implies, the band was sponsored by the local High Twelve Club – High Twelve being an organization of Master Masons placing a special emphasis on youth support, and so-named because, long ago, noon was known as "high twelve" and the time to call off from labour for lunch.
The band owned all its the instruments, so there would be no significant financial problems for me. Having been given a small toy drum some years earlier, I mentioned that I would like to play drums. Mr. Laley diplomatically informed me that the band did not have an opening for a drummer at that time. He suggested that he could both provide a baritone horn and that he could teach me how to play it. Thus began a lifelong interest in brass instruments.
Most young bands at that time were "Boys Bands". However, at High Twelve there was a difference. Two of Mr. Laley's three children were girls. One was the lead cornet, the other was the lead trombone and the son was the lead euphonium. In addition to the weekly band rehearsals, there were sectional rehearsals in Mr. Laley's basement on other nights. Our summer months were busy too –. with parades, small tattoos and competitions in various towns in Southern Ontario, to which we were usually fortunate to have a sufficient number of interested parents to drive us.
Labour Day 1939
One in-town event stands out in my mind too. It was at the Labour Day Parade (September 3, 1939) in Windsor. Two days earlier, Hitler's forces had occupied what was then known as the Sudetenland and bombarded Poland. World War Two had begun. Every band in the parade marched past a reviewing stand where there was a feature band and an adjudicator to judge the merits of the bands in different categories. In one of the categories the winning band had performed the march, Alte Kameraden (Old Comrades), a very popular German military march. Seconds after the adjudicator announced the winner, the bandmaster of a competing band climbed onto the stage and punched the adjudicator for awarding the prize to a band that had played a German march.
The assailant was quickly removed by police, and the adjudicator dusted himself off, then addressed the audience. He pointed out that Bach, Beethoven and Brahms were all German composers, and that he would continue to play their music even though there was now a war on against Germany. As we left the park we passed a newspaper stand with a headline that the liner SS Athenia had been torpedoed while enroute from Scotland to Montreal. That was just eight hours after Britain had declared war on Germany. Canada declared war a week later.
Choosing an instrument
A few years after I joined the High Twelve band, some dispute arose between the High Twelve Clubs and the Masonic order, and the band ceased to exist. I was off to see about the local Kiwanis Club band. It was a well established band with a good reputation, but there was a catch for me. They didn't supply instruments. It was time to buy one.
Should I stick with a baritone or euphonium, or buy and learn another instrument? While I liked the euphonium, if I chose it I would never get to play in a dance band or a symphony orchestra. It boiled down to trumpet or trombone. If I chose trumpet, I would know the fingering, but would have to learn how to adapt to a much smaller mouthpiece. For the trombone, I would be fine with the mouthpiece, but would have to learn the slide positions. Trombone it was, and the price even included a few basic lessons. In a few weeks, I felt comfortable enough to join the Kiwanis Band.
Early in 1943 things took a strange twist for our Kiwanis band. The commanding officer of HMCS Hunter asked Naval Headquarters for permission to recruit a band and was informed by headquarters that he could not have a permanent band, but could have a reserve band if he could recruit one. He immediately contacted the Kiwanis Club and asked to recruit us for the duration of the war. The club agreed as long as he obtained permission from all parents. In no time at all, we were all in full Naval uniform and receiving pay as reservists, even the 13-year olds among us, and it is that picture that I probably won't find until this column has gone to print.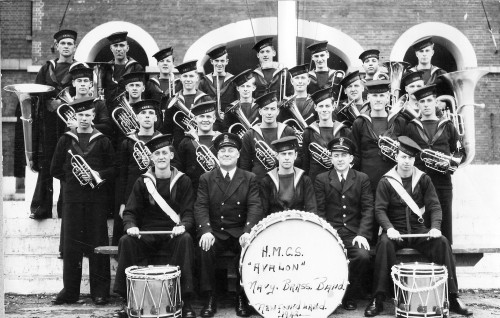 The mind's eye
As for the missing picture, there are some people in it that I vaguely remember and there are three in that I recall well. The first of these, obviously, is myself. Normally I played trombone, but they wanted a balanced photo. Since there was only one sousaphone, I was handed a second one to balance the picture. The two sousaphones occupied the upper corners of the picture.
(For those who are not familiar with a sousaphone, it is a member of the tuba family frequently seen in US college marching bands. Unlike the kind of tuba that I frequently play where the bell points up, the sousaphone is bent in a circle to fit around the body of the musician. It ends in a large, flaring bell that is pointed forward, projecting the sound above the head of the player.)
The second person who I remember well is Stan Wood, the son of the bandmaster, holding a clarinet even though he had a burning desire to get an oboe. Sometime after that, his father did buy him one. Years later, I did bump into him in Toronto, but we didn't stay in touch. The following is his obituary from November 2005. "Stanley was principal oboe and English horn player for the Toronto Symphony Orchestra for over 35 years; and a founding member of the Winnipeg Symphony Orchestra. He played for the National Ballet of Canada, the Canadian Opera Company and the CBC."
At the other end of the spectrum in that band was a trumpet player who, for reasons that will become apparent, must remain nameless. For the sake of this account, let's call him Ricky. When he was old enough, Ricky joined the Navy full time as a Bandsman. Some years later, I encountered him serving aboard HMCS Magnificent, Canada's largest Navy ship. We had a small band aboard, and Ricky was one of the trumpet players. I had no significant contact with him and never saw him again after I left the ship.
Some time later, however, I heard that Ricky had left the Navy and returned to Windsor, around the time the Ontario government announced significant changes to the province's liquor laws, allowing cocktail lounges with entertainment. Ricky was soon employed playing trumpet in a small band at one of these lounges, but evidently not for adequate pay. He had a plan, though, and one night he put it action.
During a break, reckless Ricky left the bandstand, went out to his car, put his trumpet in the trunk and took out a gun. He then went in through the front entrance and robbed the cashier at gunpoint. The gun and money was returned to the trunk, and Ricky returned to the bandstand with his trumpet. The cashier phoned police. When the police arrived, they asked he if she could possibly identify the robber. She quietly led them into the lounge and pointed to the trumpet player on the bandstand. And so ended Ricky's double life.
Newsflash
We have just learned of a new "Taking Flight" fundraising venture for the Wychwood Clarinet Choir which kicked off with a "recording launch and live pre-show" on Sunday, November 29. Their promotion employs a very clever analogy. In their words: "Like a monarch caterpillar busily transforming from chrysalis to butterfly, we are busy, waiting to burst forth when the world opens up." Accompanying the words on their website, you see a caterpillar going along a twig upside down. It then spins a cocoon and is closed inside. In time, a beautiful butterfly emerges and flies off. It's well worth a visit to the choir's website. It's also a worthwhile wish for the new year for us all.
Jack MacQuarrie plays several brass instruments and has performed in many community ensembles. He can be contacted at bandstand@thewholenote.com.