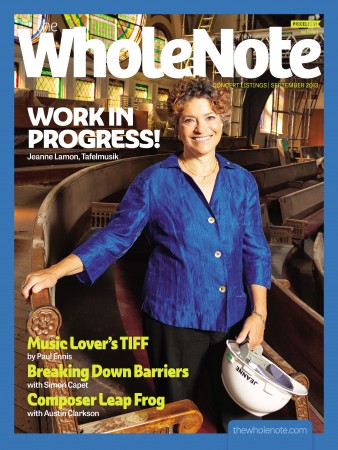 "I've been walking around in a fog this week, trying to process Jeanne Lamon's passing. Such a vital force in my life and the lives of so many others. I hope you've managed to celebrate her in this edition?" Larry Beckwith
Very few of our readers who became faithful followers of Tafelmusik during almost four decades under Jeanne Lamon's musical direction, will be hearing about her all-too-sudden death here. The shock waves have spread, and, as Larry Beckwith says in his note, you are likely, like us, in a bit of a fog, trying to process her passing.
As for celebrating her in this edition, it all feels a bit too soon and sudden and sad and raw for that – a bit presumptuous even – at a time when those whose musical lives were most closely intertwined with hers, need most to speak, and are doing so.
We took this cover photo (hard hats all round!) for a September 2013 story in which Larry Beckwith, himself a long-time member of the Tafelmusik Choir, chatted with Jeanne about what lay ahead. What jumps out at me is how she is setting the tempo for what she sees ahead, looking with clear eyes not just to life for Jeanne after Tafelmusik, but life for Tafelmusik after Lamon. You can find it in our archive at kiosk.thewholenote.com (Vol. 19).
And tafelmusik.org/watch/video/allegro-concerto-2-violins-d-minor-bwv-1043 takes you to a moment of music from House of Dreams – music it took her particular kind of leadership to elicit from her brave and merry little band.
For now we mourn. Let the moments of celebratory remembering begin, so tears of joy can follow.