The cognitive benefits of musical studies are well-documented and often repeated – used to attract and draw in prospective students to music schools and studios across the world. For many parents, music lessons for their children is as much an investment in their future as the pursuit of cultural understanding and artistic accomplishment – a résumé-building, college-application-enhancing tool in some future well beyond the horizon.
But while the decision to undertake musical studies is often pragmatic, even when it is not it should be initiated as early as possible, exposing even babies' ears to the widest possible range of symphonies, songs and sounds and encouraging our little geniuses to connect with as much aural diversity as possible. As a parent, it can be challenging to consider such things, especially when entering one's fourth Baby Shark marathon of the day, but Tafelmusik is helping make the introduction of classical music to our youngest family members slightly easier with their latest album, Baroque for Baby.
Curated by Tafelmusik violinist and mother of two, Cristina Zacharias, Baroque for Baby was released digitally on major streaming and digital music services on October 16 and features repertoire by a wide range of early music composers including Telemann, Purcell, Lully, Vivaldi, Handel, Monteverdi, Rameau, Merula, Sweelink and Marais. With Tafelmusik's entire discography to choose from, achieving a balance of enlivening music with calming, quieter pieces for relaxation and sleep, would be a challenge to almost anyone, but not so for Zacharias, who comments in the Baroque for Baby release: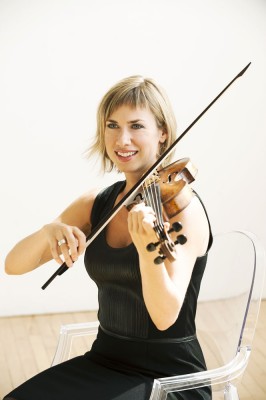 "There is nothing more magical than watching a baby or young child respond to music – the immediate natural and instinctive response to melody and rhythm is a reminder of just how fundamental music is in our lives …. Improvements are evident in self-regulation, spatial awareness, memory, language development, self-expression, motor skills, just to name a few. As a musician and a parent, the importance of music for babies is no surprise to me.
With the notable exception of Johann Sebastian Bach (and some of the more complex works by Handel and Zelenka), much of the Baroque-era repertoire here is relatively straightforward and accessible, using driving rhythmic figures, simple melodic and harmonic devices, and repetition-based forms, all of which make this style of classical music perfectly suited to younger listeners. Within this general framework, however, there were many decisions to be made:
"I looked for music that I thought was particularly engaging for kids and I wanted to present a wide range of styles and moods[…] I tried to feature all of the instruments that make up Tafelmusik's core group (strings, winds and harpsichord), and looked for a variety of rhythmically or lyrically catchy pieces, and lots of different versions of what Baroque music could be."
This daunting challenge of surveying the 17th and 18th centuries through 35 unique tracks is remarkably successful, with juxtaposition and contrast keeping the listener's attention and interest throughout. Whether the percussion-heavy Moresca from Monteverdi's Orfeo, Handel's virtuosic Trio Sonata in G Minor with magnificent woodwinds, or the string-forward Ouverture-Suite by Telemann, this superb album contains something for everyone, aficionado or neophyte, old or young.
As successful a collection as this may be for your early music columnist, the fundamental question pertains to its titled purpose: how well does Baroque for Baby test with actual babies? To help answer this, I recruited my son (B, who will be two in February) to listen to as much of Baroque for Baby as possible, both while moving around and playing, and also while seated at mealtime. The first, most easily noticed aspect of B's listening adventure was the way in which he physically, viscerally, manifested the sounds he was hearing through physical gesture. With a conductor father, it is no surprise that he has absorbed some association between arm-waving and aural input, but the energy and range of his full-body movements were even more impressive, knees bouncing and arms waving like some sort of juvenile Mahlerian caricature.
It should be noted that such jubilant output was in response to the equally jubilant musical selections playing at the time. More so than any key signature, time signature, or instrumental timbre, it was the tempo and rhythm together that appeared to drive these reactions; more introspective works were met with a trance-like silence punctuated by the occasional transfer of food from the high-chair tray to B's mouth – perhaps in an attempt to refuel before the next barn burner.
While B was unable to listen to all three-dozen tracks over our two allotted listening days, unlike a symphony or song cycle, Baroque for Baby allows us to absorb its material in smaller segments, repeat favourites and find those tracks that hold special meaning for both B and me. (As previously mentioned, air-conducting Telemann quickly became our Saturday afternoon activity.) With expertly curated selections showcasing a tremendous range of musical variety, Tafelmusik's newest digital release has something of interest for everyone, big and small.
As pandemic restrictions continue to wreak havoc on the performing arts, being able to share musical moments with the ones we love should be savoured more than ever. By supporting Tafelmusik and other arts organizations through streaming, donating, and purchasing merchandise, you are playing a role in the increasingly precarious future of these groups. So I encourage you to try Baroque for Baby, whether you have a child or not – because, as the saying goes, "There's a child in each of us."
Matthew Whitfield is a Toronto-based harpsichordist and organist.