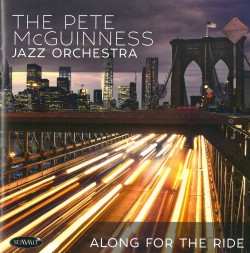 Along for the Ride
The Pete McGuinness Jazz Orchestra
Summit Records DCD 747 (summitrecords.com)
With the release of his third big-band CD, multiple Grammy-nominated composer, arranger, producer, trombonist and vocalist Pete McGuinness has certainly grabbed the golden ring. This is a fine recording featuring tasty standards, beautifully-constructed original compositions, inspired and contemporary arrangements by McGuinness and skilled performances by some of New York City's most gifted musicians. All arrangements here are by McGuinness, and the recording kicks off with the Charles Strouse depression-era hit Put on a Happy Face. The track is the perfect, snappy, up-tempo opener, with a beautifully recorded big band sound (no easy task) and a buoyant and facile tenor solo from Tom Christensen.
The creative take on the late Michel Legrand's You Must Believe in Spring is a total delight. McGuiness scats over melodic lines, and also performs the lyric with great emotion and perfect intonation, while pianist Mike Holober propels this gorgeous tune and arrangement through and around all of its beautiful changes. Of special note is Aftermath. With a moving brass choir opening, this original has its origins in an assignment once given to McGuinness by Bob Brookmeyer at the BMI Jazz Composers' Workshop. Essentially an expanded tone poem about the loss of McGuinness' close friend, this contemporary piece features Dave Pietro's incredible (and indelible) soprano solo, which morphs into a wail of pain, grief and frustration (as well as other fine-tuned emotional states).
An additional standout is the McGuinness composition, Point of Departure – a dynamic arrangement that displays a full-throttle, big band sound – just as it should be – with Rob Middleton shining on tenor, as does Bill Mobley on trumpet.