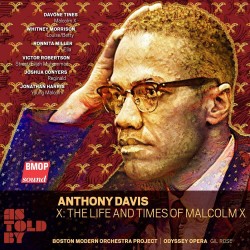 Anthony Davis – X: The Life and Times of Malcolm X
Davóne Tynes; Whitney Morrison; Boston Modern Orchestra Project
BMOP Sound (bmop.org/audio-recordings/anthony-davis-x-life-and-times-malcolm-x)
The story of X: The Life and Times of Malcolm X is eerily similar to the life of its lead protagonist. Before he became "Malcolm X" he was a controversial figure who preached racism and violence, until he embraced the civil rights movement after his pilgrimage to Mecca. Largely a forgotten American, Malcolm X reclaimed some of the spotlight when he collaborated with Alex Haley on his autobiography. This brings us to the history of X: The Life and Times of Malcolm X – the opera, which was premiered at the American Music Theatre Festival in September 1986.
Did Terence Blanchard's Fire Shut Up In My Bones performed by the Metropolitan Opera provide the much-needed breakthrough for Christopher Davis' story and Thulani Davis' libretto after lying dormant for 36 years? Possibly, but it also certainly took a particularly finely wrought score by pianist/composer, Anthony Davis, writing his eighth opera, to celebrate X: The Life and Times of Malcolm X again, entirely justifying the Pulitzer Prize for Music that he earned in 2020.
Davis' score is a mighty one; its heft is brilliantly carried by the Boston Modern Orchestra Project (BMOP) under the baton of Gil Rose who makes full use of dark symphonic sounds to enhance a grim and tragic period atmosphere. Kenneth Griffith brings uncommon skill in marshalling the chorus for the epic narrative.
The transformation of a frightened Malcolm Little who comes to terms with his father's death in the recitative Reverend Little is Dead from Act I Scene 1 through Malcolm's Aria, "You want the story, but you don't want to know" in Act I Scene 3, another recitative We Are a Nation in Act II Scene 4, Betty's aria When a Man is Lost in Act III Scene 2, to the tragic dénouement in the Audubon Ballroom. The achingly pure soprano of Whitney Morrison is stoic and utterly convincing as Betty Shabazz, and best of all, Davóne Tines' velvet-toned bass-baritone brings power and nobility to the role of Malcolm X.
BMOP's 2022 revival of X: The Life and Times of Malcolm X is to be followed by productions by Opera Omaha, Seattle Opera, Lyric Opera of Chicago and the Metropolitan Opera (to be presented in 2023-24 season), marking it as one of the most significant American operas of the 20th century,