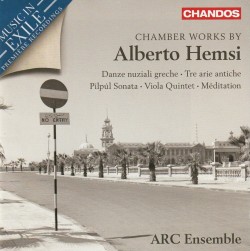 Chamber Works by Alberto Hemsi
ARC Ensemble
Chandos CHAN 20243 (rcmusic.com/performance/arc-ensemble)
This latest Music in Exile CD spotlights Anatolia-born Alberto Hemsi (1898-1975). In 1922, during the Greco-Turkish War, Hemsi fled to Rhodes, then moved to Egypt in 1928, founding and conducting the Alexandria Philharmonic Orchestra. He finally emigrated to Paris in 1957, Egypt's Jews being non-grata following Israel's Suez invasion.
Hemsi often drew from his Sephardic-Jewish heritage, plus varied Middle Eastern traditions. Méditation (in Armenian Style), Op.16 for cello and piano was published in 1931. For nearly seven minutes the cello chants dolefully over hammer-dulcimer-like piano tinkles. Also for cello and piano, Hemsi's three-movement, ten-minute Greek Nuptial Dances, Op.37bis (1956) honours, respectively, the jolly mother-in-law, wistful bride and comical godfather, staggering drunkenly.
The nine-minute Three Ancient Airs, Op.30 (c.1945) are settings for string quartet of three of the 60 songs in Hemsi's Coplas Sefardies. Ballata evokes a sultry dance, Canzone a plaintive serenade, Rondò a children's game song. These melodies, accompanied by guitar-like plucks, reflect Sephardic Jews' enduring ties to Spain, their homeland before being expelled in 1492.
Sephardic and Hebraic melodic tropes imbue the three-movement, 19-minute Pilpúl Sonata, Op.27 (1942) for violin and piano, light-hearted depictions of scholars engaged in pilpúl, nit-picking arguments about Talmudic texts. Hemsi avoided overt ethnic references in his 18-minute Quintet, Op.28 (c.1943) for viola and string quartet. Here, three dance-like movements frame a tender Berceuse.
Once again, Toronto's splendid ARC Ensemble (Artists of the Royal Conservatory) has redeemed a deserving composer from unwarranted "exile" in this important ongoing series.