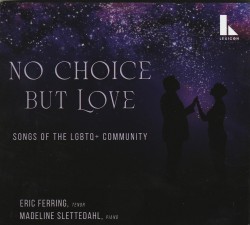 No Choice but Love – Songs of the LGBTQ+ Community
Eric Ferring; Madeline Slettedahl
Lexicon Classics LC2206 (lexiconclassics.com/catalogue)
Read the Review
In this rather breathtaking, two-disc recording, noted American tenor Eric Ferring – in a made-in-the-stars collaboration with pianist Madeline Slettedahl – has created a significant piece of work that highlights many diverse LGBTQIA voices and perspectives. Included in the project is the world premiere of composer Ben Moore's Love Remained (in a new arrangement for tenor voice) and his commissioned title work, No Choice But Love. Ferring has expressed "As members of this community, Madeline and I wanted to pay homage to the beautiful, difficult history of the LGBT+ community within the classical world… we, as artists must use our gifts to be catalysts for change…" The talented producers of this artful collection are Gillian Riesen and Rebecca Folsom.
Also included in the recording are illuminating and eclectic works by Manuel de Falla, Jake Heggie, Francis Poulenc, Ethel Smyth, Jennifer Higdon, Willie Alexander III, Mari Esabel Valverde, Benjamin Britten and Ricky Ian Gordon. First up is Moore's four-movement work, Love Remained. Ferring and Slettedahl shine here, expressing Moore's message of hope and eventual acceptance throughout. On Hold On, Ferring sings with such emotion, imbuing each word with meaning and hope. Valverde's two-piece song cycle, To Digte af Tove Ditlevsen is a work of shimmering beauty, rendered with sumptuous dynamics, pianistic skill and Ferring's magical voice; and de Falla's Oración de las madres que tienen a sus hijos en brazos is moving beyond measure.
A true standout is Gordon's Prayer. Ferring and Slettedahl move as one being through this luminous, deeply spiritual composition and Britten's Canticle I is an inspired inclusion. The magnificently rendered title track was debuted on this year's National Coming Out Day and nothing could be more appropriate. This performance and the entire recording is a clear hope for understanding, love and acceptance. Bravo!