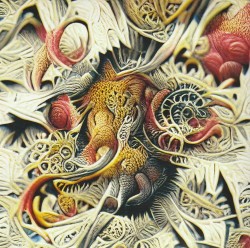 Bekah Simms – Bestiaries
Various Artists
Centrediscs CMCCD 30022 (centrediscs.ca)
Canadian composer Bekah Simms is no stranger to the concert stage having been the recipient of over 30 composition awards, but her latest work Bestiaries takes us into a new realm of height and depth. This album comprises three chamber works, and highlights Simms' fine orchestral colouring, as well as exacting leadership from Brian Current's Cryptid Ensemble and Véronique Lacroix's Ensemble Contemporain de Montréal, the former being created for the express purpose of this album. At times feeling chaotic, the work never loses a finely crafted sensibility of every note being exactly where the composer wants it to be.
The opening of Foreverdark has us awakening in what could be described as a subway tunnel and very quickly drags us through underwater culverts and dark machinery. Led by amplified cello, this is stunning work from Toronto's Amahl Arulanandam, with whom Simms enjoys a close relationship. This is an incredibly exciting piece I would love to see performed live.
From Void is a chilling and aggressive piece, after which we welcome Bestiary l+ll, a cinematic journey broadcasting a depth and width of oceanic proportions. We are floating over landscapes of rock, darkly shrouded shipwrecks and elegant sea creatures. Simms pulls us in, taking us along on her deep dives into her personal Neverworld like a school of fish following in her journey to the oceanic underworld, led by the brilliant waves of vocal elasticity from Charlotte Mundy's beckoning Siren call and pulling us up for air with bird calls and what Simms describes as her "sonic ecosystem."
Simms crafts a tapestry of strict essentials that are tensile without being harsh, like finely knit silk crochets transforming to steel mesh. Is there such a description as densely translucent? This would be it.