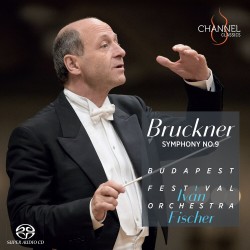 Bruckner – Symphony No.9
Budapest Festival Orchestra; Ivan Fischer
Channel Classics CCSSA42822 (outhere-music.com/en/labels/channel-classics)
There is a wonderful, dramatic moment in Verdi's opera Attila. In the sixth century Attila's hordes were devastating Italy but just before reaching Rome Attila has a dream warning him to "Stop! Go no further, you are entering God's territory." Indeed, Attila was never able to conquer Rome. This is how I felt listening to the heavenly last movement of Bruckner's Symphony No.9 in D Minor. The music is so beautiful, so otherworldly, that it is approaching heaven and Bruckner had to stop, no further to go. As we know Bruckner was never able to complete this work.
Ivan Fischer, by now a world-famous Hungarian conductor, has a tremendous respect for this work but wanted to reach age 70 before attempting to conduct it. And it was worth the wait. The Budapest Festival Orchestra, that he created with the late great pianist Zoltán Kocsis and is now rated one of the top ten of the world, is in top form and so is the recording.
At the beginning there is a mysterious, even frightening, hushed intensity, daring harmonies and gorgeous sonorities as we reach the climaxes in the first movement. This is followed by Bruckner's trademark Scherzo of relentless foot stomping as if giants were dancing (reminding us of Wagner's Das Rheingold) but the joviality ends with a deadly grimace in D minor. The final Adagio begins with a surprisingly poignant leap of a minor ninth and the Wagner tubas play a prominent role, but the ending is a farewell, a quiet renunciation, and tranquillity now pervades in a major key that ends the symphony.