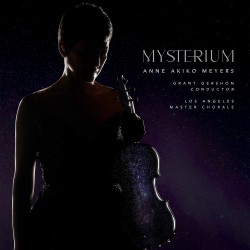 Mysterium
Anne Akiko Meyers; Los Angeles Master Chorale; Grant Gershon
Avie AV2585 (avie-records.com/releases/mysterium-anne-akiko-meyers)
A four-track release featuring arrangements of seasonal favourites, Mysterium shines a spotlight on two of America's finest performers, violinist Anne Akiko Meyers and the Los Angeles Master Chorale, in works by J.S. Bach and Morten Lauridsen.
The first three tracks are arrangements of chorales from Bach's church cantatas: Jesu, Joy of Man's Desiring, Sheep May Safely Graze and Wachet Auf. These are not faithful transcriptions of the original works, but rather adaptations that allow both the choir and soloist to be front and centre, which can occasionally come across as rather heavy-handed when compared to the relative simplicity of Bach's original material.
The highlight of this release is undoubtedly Lauridsen's O Magnum Mysterium, in a new arrangement by Lauridsen himself. Recorded in Walt Disney Concert Hall, this version incorporates Meyers through a soaring and lyrical descant which, when combined with the Master Chorale, provides a robust and voluminous sound that accentuates the depth of Lauridsen's writing.
Although a smaller-scale release than most, these 18 minutes of music are full of beauty and affect. From Advent chorales to manger-side musings, Mysterium is both a delightful way to begin ushering in the Christmas season and a fine introduction to Meyers, the Los Angeles Master Chorale and conductor Grant Gershon.