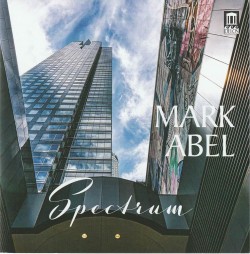 Mark Abel – Spectrum
Hila Plitmann; Isabel Baayrakdarian; Various Artists
Delos DE 3592 (delosmusic.com)
Listen
Trois Femmes du Cinema-Pina Pellicer
Reconciliation Day
Somewhere in Wyoming
Read the Review
Even before you begin to listen to Mark Abel's Spectrum – a generously packaged double disc of vocal works – you know you're in for a rare treat. Not only do we meet Isabel Bayrakdarian, a haunting soprano singing emotionally in praise of three women artists we might never have known if Abel had not set their lives to song, but we find ourselves in the thrall of the Jewish heroine Esther, whose strength and cunning prevented the extermination of a fifth-century Jewish community by Haman, the powerful vizier of the Persian King Xerxes.
As if modern Lieder on disc one and the operetta Two Scenes from The Book of Esther aren't enough, Abel also puts his considerable compositional prowess to work on instrumental music performed with immense integrity and authority by Trio Barclay, and other strings, horn and woodwinds, musicians of the highest order, on each of the two discs.
Spectrum is spotlighted by Bayrakdarian and pianist Carol Rosenberger who celebrate the lives of Anne Wiazemsky (1947-2017), Pina Pellicer (1934-1964) and Larisa Shepitko (1938-1979), three icons of modern film on Trois Femmes du Cinema. Abel's work tells of their courage in holding their own against the power of patriarchal misogyny in the film industry. Meanwhile, soprano Hila Plitmann and mezzo-soprano Kindra Scharich glorify the story of Queen Esther. Scharich returns to partner pianist Jeffery LaDeur in the soul-stirring song cycle 1966 to close out the absolutely unimpeachable Spectrum of music by Abel.