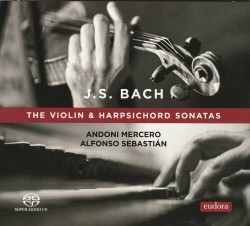 Bach – Violin & Harpsichord Sonatas
Andoni Mercero; Alfonso Sebastian
Eudora Records EUD-SACD-2025 (eudorarecords.com)
Recorded in the later part of 2020 at St. Miguel Church in Zaragoza, Spain, this splendid and affecting recording captures the remarkable variety, innovation and intimacy of these great sonatas. Written in the early 1720s, they feature both instruments as equals and, as with many of Bach's "sets of six" (Brandenburg concerti, cello suites, English and French suites for keyboard, violin sonatas and partitas), each stands alone in mood, spirit and thematic development. From the wistful and distant B Minor, the tragic C Minor (with its echoes of Erbarme dich in its first movement), the nostalgic and poignant F Minor to the majestic A Major, the towering E Major and the final exuberant G Major, this recording offers generous and beautiful performances, full of intelligence and heart.
Both players are leading performers and educators in Spain, with Mercero equally at home as a soloist, leading orchestras from the violin (both Baroque and modern) and playing more intimate chamber music (he coaches string quartets at Musikene in San Sebastián in Spain) and Sebastián collaborating with many Spanish early music ensembles, as well as teaching harpsichord at the Salamanca Conservatory.
The handsome 2CD set is accompanied by an informative booklet, featuring a lengthy and well-written essay on the provenance of these fascinating pieces and personal reflections on the 30-year musical partnership of these two brilliant musicians.