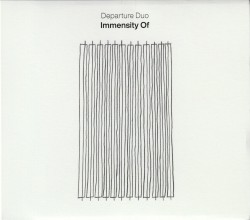 Immensity Of
Departure Duo
New Focus Recordings FCR329 (newfocusrecordings.com)
Cheekily tagging itself "a high-low duo" the virtuoso Departure Duo is an unlikely combo. Boston-based soprano Nina Guo and double bassist Edward Kass are committed to commissioning, performing and touring repertoire composed for their unusual combination, music that explores the full range of styles and sounds they can produce. They frequently collaborate with sonic artists to create new music, including three of the works on Immensity Of by younger generation American composers Katherine Balch, John Aylward and Emily Praetorius.
Balch's Phrases dramatically grapples with meaning, gesture and sound, while Aylward mines the poetry of Rilke for inspiration in Tiergarten (Zoo). The time-stretching Immensity Of by Praetorius is quite different from anything else here, featuring delicate, long glissandi for both voice and bass. Its beautiful lonely spaciousness is relieved only by soft whistling, birdsong, mouth clucks and knocking bass pizzicati.
Kurtág's Einige Sätze aus den Sudelbüchern Georg Christoph Lichtenbergs forms the album's centerpiece. Drawing from 18th-century German polymath Lichtenberg's collection of often humorous aphorisms, the composer selected texts to form the lyrical and aesthetic backbone of his collection of 18 succinct individual sections, a veritable song cycle.
Kurtág's pleasure in the texts' wry humour is evident in Die Kuh (The Cow) and in several other places. In Die Kartoffeln (The Potatoes) for example, he appears to depict root vegetables in storage in atonal first-species counterpoint. Surely that's a first! Departure Duo's masterful performance makes a strong case for this 21-minute work, as well as for their high-low partnership.