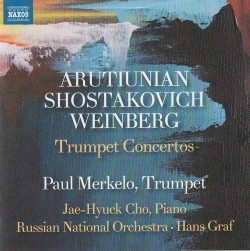 Arutiunian; Shostakovich; Weinberg – Trumpet Concertos
Paul Merkelo; Jae-Hyuck Cho; Russian National Orchestra; Hans Graf
Naxos 8.579117 (paulmerkelotrumpet.com)
Since its creation in the Baroque era, the concerto has been dominated by keyboard and string instruments. If asked to provide a list of the greatest concertos of all time, one would likely list numerous piano and violin works, a cello concerto or two, and perhaps a piece for oboe or other woodwind.
Although its repertoire is limited when compared to other brass and woodwind instruments, the trumpet has had numerous concertos written for it from composers of the Soviet era and beyond. Three such works are featured here, including an adaptation of Shostakovich's Piano Concerto No.1 in C Minor, Op. 35, arranged by trumpeter Paul Merkelo, principal of the Orchestre Symphonique de Montréal, himself.
While the trumpet is often used as a dramatic, high-volume instrument in orchestral settings, this disc demonstrates the remarkable versatility and subtlety that can be obtained from it, providing an illuminative look into the trumpet's expressiveness and beauty. Armenian composer Alexander Arutiunian's Trumpet Concerto in A-flat Major begins this recording and immediately strikes the listener with its alternating passages of lyricism and energetic buoyancy. Indeed, Merkelo's immediately recognizable virtuosity makes even the most demanding moments sound effortless, with almost-unbelievable velocity never coming at the expense of the music itself.
Shostakovich's Piano Concerto No. 1, originally titled Concerto for Piano, Trumpet, and Strings, follows a double concerto model, in which both piano and trumpet receive soloist responsibilities. Merkelo's arrangement still features the piano, here performed by pianist Jae-Hyuck Cho, but with an expanded trumpet part that gives more evenly distributed responsibilities to each performer. Uncharacteristically playful yet undeniably Shostakovich, this work is a tour-de-force and a striking way to conclude a worthwhile exploration of one of music's lesser-heard solo instruments.