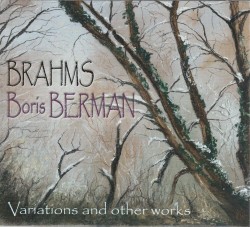 Brahms – Variations and other works
Boris Berman
Le Palais des Degustateurs PDD027 (lepalaisdesdegustateurs.com)
Within jazz music's history, perhaps particularly so during the bebop era of the mid-1940s, fly-by-night record companies would pop up to record the progenitors of this musical form (Charlie Parker, Thelonious Monk, Kenny Clarke, Dodo Marmarosa) as their sounds, largely heard in after-hours New York-based jam sessions, escaped notice or attention by the so-called "majors" of the time. Tall on ambition and moxie, but short on finances, these companies (Dial, Savoy, Riverside) wanted to record original music that had a patina of familiarity (harmony, chord changes) without paying the royalties necessitated by copyright laws in order to release music not in the public domain. Enter the contrafact; new melodies written over the chord changes and form of pre-existing compositions.
Well, like almost everything else in life, there is a historically earlier iteration of this idea, this time coming from Western Art Music, the variation. As the informative liner notes to this fine recording by the talented and articulate pianist Boris Berman expound, variation "provided a predictable template, an unobtrusive campus, upon which musicians could demonstrate their craft."
Contained on this interesting and imminently listenable recording by Berman are variations or arrangements by Johannes Brahms that delight and bring new perspective to the works of this master. Recorded on a gorgeous Steinway piano with fine sonic capture from the Couvent des Jacobin in Beaune, France this compelling 2022 recording by a leading Brahms interpreter, pedagogue and prolific pianist is a welcome addition to the discographies of both Berman and Brahms.