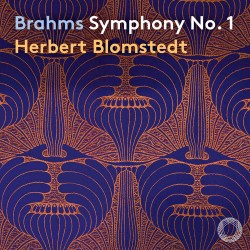 Brahms – Symphony No.1
Gewandhausorchester Leipzig; Herbert Blomstedt
PentaTone PTC5186850 (naxosdirect.com/search/827949085062)
At the risk of stranding ourselves in a past we'll never relive, we continue to revisit masterpieces from over a century ago. This provides work for my fellow performers and me, and possibly keeps the public in touch with sonic masterpieces. We might ask ourselves, what is new and different in this latest iteration? Otherwise, is there any point?
I take enormous pleasure in hearing the fine Gewandhaus Orchestra, under Herbert Blomstedt, recraft Brahms' titanic First Symphony in C Minor Op.68 into audible form. The performance has so much clarity and poise, nothing I write in response can mean much at all.
I'm no collector of things, nor of recordings, but I am a repository of memories, and this piece remains on a prominent shelf in the room where professional reminiscence is housed. As a student, the experience of hearing the wonderful energy and intelligence of Brahms' First fuelled my desire to be among the lucky few who might perform it in a professional setting. Knowing how long he took to knuckle down and live up to his billing as the next great symphonist after Beethoven inspires me to carry on at my advanced age.
It is a fantastic rendition, as good as any out there I'm sure, and worth owning whether it is one among many, or your first (even only) version. The playing is pure, both delicate and yet powerful. Blomstedt asks for and receives fine and subtle performances from the entire band.
The Andante sostenuto second movement is languid and deliciously melancholy. Add in the uplifting finale, with its wunderhorn call and its hymn answering Beethoven's Ode to Joy, and perhaps the troubles of today might be more bearable.