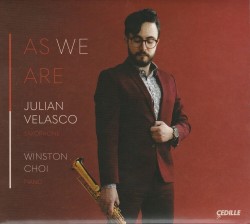 As We Are
Julian Velasco; Winston Choi
Cedille CDR 90000 213 (cedillerecords.org)
Julian Velasco is a saxophonist, collaborative artist and educator raised in Los Angeles and now based in Chicago; Winston Choi is a pianist with a huge list of performances around the world who grew up in Toronto. As We Are features Velasco on alto, tenor and soprano saxophones in a series of dramatic and engaging works.
Come As You Are was written by Stephen Banks as a four-movement suite dedicated to members of his family; it contains references to "African-American sacred music" which adds a poignancy to each piece. Amanda Harberg's Court Dances which reference "16th and 17th-century court dances, were initially influenced by the "syncopated bounce of a squash ball." The intricate interplay between Choi's piano and Velasco's light and precise soprano saxophone in the first movement, Courante, is exciting in a delightfully frenzied manner.
Animus (Elijah Daniel Smith) combines some multi-phonics with tape accompaniment; Velasco's performance is sensitive and controlled. Liminal Highway was premiered in 2016 for flute and electronics but composer Christopher Cerrone revised it for saxophone and, after hearing Velasco perform, decided he was the artist to play it. The sections with percussive pad work are particularly intense and magnificent. As We Are is an exciting album of contemporary music for the saxophone performed with passion and precision.