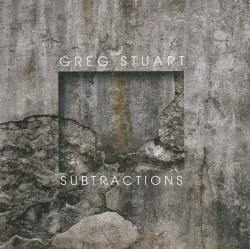 Subtractions
Greg Stuart
New Focus Recordings FCR348 (newfocusrecordings.com)
American percussionist Greg Stuart's practice embraces improvisation, electronics and the classical experimental music tradition. At the same time he actively bucks conventional solo percussionism by cultivating an anti-virtuoso performance mission, a stance related to his focal dystonia which limits his motor function in one hand.
This seeming limitation has, however, served as a springboard, inspiring Stuart to explore alternative soloist paths, specifically in developing meaningful collaborations with several composers.
Subtractions reflects Stuart's personalized mastery of the contemporary percussion idiom in works by composers Pisaro-Liu (side by side) and Sarah Hennies (Border Loss). The album highlights a particular sonic focus: the magnification of intimate sounds through layered recording. Electronic sounds and field recordings also make appearances.
Hennies' 22-minute Border Loss explores irregular percussive textures, granular, swarm-like sounds and slowly shifting arrays of timbral categories. Sometimes the music evokes the crackling of a fire. Other times high-pitched bells and wind chimes add pitch elements, though waves of sonic continuity are always the focus here.
Pisaro-Liu's side by side is in two parts, the first scored for bass drum and cymbals, the second for vibraphone and glockenspiel. There is a kind of aural alchemy at work here. Part I is characterized by the sounds coaxed from the skin of the bass drum and a deliciously slow crescendo on a rolled cymbal, morphing into rich near-orchestral static textures. To this listener, Part II's aphoristic melodic phrases on the two sustaining metallophones conjure a peacefully contemplative atmosphere. It's a welcome respite during these challenging early days of winter.