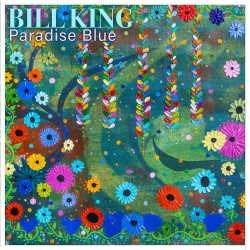 Paradise Blue
Bill King
Independent (billkingpiano.bandcamp.com/album/paradise-blue)
Solo piano music fills its absolute potential when the entire dynamic, melodic and expressive range of the instrument is utilized in an uninhibited fashion that allows for the player's idiosyncrasies to shine through. Paradise Blue manages to distinguish itself in precisely this way. The standards are tackled in an engaging and subversive manner. Bill King's playing humbles itself, staying indebted to the original melodies, while also challenging the listener to find the tune within the margins of the creative voicings and improvisational storytelling.
On It Could Happen to You, King weaves an intricate rhythmic tapestry, punctuating every run and turn of phrase with inspired left-hand comping. The runs themselves are dizzying, incredible spiral staircases, seeming to ascend and descend at the exact same rate. While soloing, it can be evident that King is keeping a given song's written melody in mind for pretty much the entire piece, often cleverly burying offhand references to it in increasingly unthinkable corners. The amount of fun being had is infectious, with stretches of the album having the same sense of adventure as an Easter egg hunt.
These upbeat bits contrast perfectly with watershed moments like Redemption Song. In the intro, the way King unapologetically sustains each note gives the classic song an almost mournful quality, leaving us with no option but to meditate with them. The piano can be, above all else, an interpreter of expression and feeling. Exhibit A: Paradise Blue.