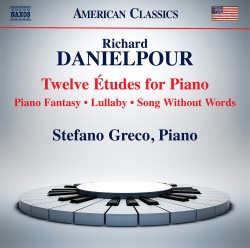 Richard Danielpour – 12 Etudes for Piano
Stefano Greco
Naxos 8.559922 (naxos.com/Search/KeywordSearchResults/?q=8.559922)
Outside of certain musical circles, Richard Danielpour may not exactly be a household name, but the credentials of this 66-year-old American composer are impressive indeed. Born in New York of Iranian-Jewish descent, he studied at Oberlin, the New England Conservatory and ultimately, the Juilliard School. Since 1997, he has been on the faculty of the University of California at Los Angeles. Like many composers of his generation, Danielpour began writing in a serial style, but later adapted a more accessible "quasi-tonal" idiom. Among his enormous output are a number of pieces for solo piano including a set of 12 Etudes, the Piano Fantasy and two transcriptions from an opera currently in progress, all of which are premiered on this Naxos CD by the Italian-born pianist Stefano Greco.
The Etudes are miniature gems (each never more than six minutes in length) and what strikes the listener most immediately is the appealing range of contrasting moods – from the perpetuum mobile of the first, the stridency of the fifth (do I hear echoes of Prokofiev?) and the languor of the sixth and ninth. Throughout, Greco demonstrates full command of this unfamiliar repertoire.
The Piano Fantasy is based on the final chorus of Bach's St. Matthew Passion and is a true fantasy with its abruptly contrasting tempos and dynamics. The piece demands considerable virtuosity at times, but again, Greco meets the challenges with formidable technique.
Rounding out the program are the Lullaby and Song Without Words which show yet another side of Danielpour's compositional style. Gentle and unassuming, these short pieces provide a fitting conclusion. Kudos to both Naxos and Greco for bringing to light some music that definitely warrants greater investigation.