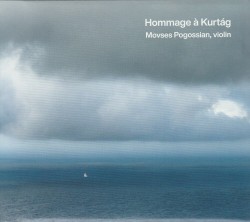 Hommage à Kurtág
Movses Pogossian
New Focus Recordings FCR347B (newfocusrecordings.com)
Nonagenarian György Kurtág is ranked among today's foremost composers by many. Despite its often enigmatic qualities, his music falls squarely in the European classical music lineage, particularly the branch represented by his illustrious 20th-century Hungarian composer-predecessors Béla Bartók and Zoltán Kodály.
Kurtág's individual movements are typically quite brief, yet despite compression, expressively complex. His style is gestural and at the same time lyrical. Though his music is never overtly sentimental, he systematically indulges in homages in his titles.
On Hommage à Kurtág, American violin virtuoso Movses Pogossian, a Kurtág specialist, presents a brilliantly played recital featuring the composer's Signs, Games and Messages for solo violin. The substantial 16-movement work is a masterwork of exuberance and subtlety, displaying the enigmatic qualities that distinguish the composer's unique voice. As music critic Alex Ross once insightfully observed, it is "dark but not dismal, quiet but not calm."
Honouring the concept of homage in Kurtág's music, Pogossian commissioned Californian women composers Aida Shirazi, Gabriela Lena Frank, Kay Rhie and Jungyoon Wie. They contributed terse works of considerable poise to the album, proving that Kurtág's aesthetic spirit is alive and well among younger composers.
Bringing his program back to Kurtág's deep Hungarian roots, Pogossian gives a committed reading of the Melodia movement of Bartók's autumnal Sonata for Solo Violin. He concludes with a very satisfying, passionate, live rendering of Kodály's expansive Duo for Violin and Cello with cellist Rohan de Saram.