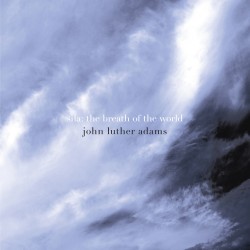 John Luther Adams – Sila: the breath of the world
JACK Quartet; The Crossing
Cantaloupe Music (cantaloupemusic.com/albums/sila-breath-of-world)
When Schoenberg abandoned the chromatic Wagnerian tonality of Verklärte Nacht one critic described his work as sounding as though "someone had smeared the score of Tristan whilst the ink was still wet." Debussy took an evolutionary approach to this 12-tone system, gradually dissolving traditional scales and harmony in a beguiling, evocative sound world.
The Inuit of Canada's Arctic have known about this seamless harmonic experience long before Schoenberg and Debussy; and honestly, long before John Luther Adams. But Adams appears to have found a way to re-invent the concept like no one else, except, perhaps the Inuit.
Sila: The Breath of the World is Adams' monumental re-creation of that breath of the world in the concert hall. It is recreated in a continuous score "written" as it were, when the breath that comes from the very air around us is profoundly transformed by dozens of percussionists, woodwinds, brass, strings and the inimitable voices of The Crossing complemented by the JACK Quartet
Adams' Sila begins with the rolling thunder of percussion imitating the rumbling of the earth awakening, its breath a singular inhalation of the teeming humanity who inhabit it.
Voices and instruments join the majestic harmonics of the low B flat and wend their way into what seems like a single note encompassing all 12-tones seamlessly; music morphing into a prolonged inhalation and exhalation of Sila: The Breath of the World, before falling into silence. Art imitating the single note of life's breath.