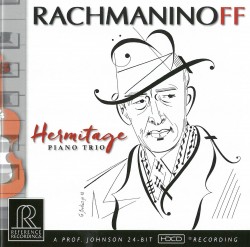 Rachmaninoff
Hermitage Piano Trio
Reference Recordings RR-1475ACD (referencerecordings.com)
The Hermitage Piano trio is comprised of three exceptionally talented chamber musicians: violinist Misha Keylin, cellist Sergey Antonov and pianist Ilya Kazantsev. All have enjoyed celebrated solo careers before finding common ground in their shared nationality and uniting to explore and re-present the great Russian musical traditions on the world concert stages of today. Now based out of the United States, the ensemble has just released their debut CD for Reference Recordings, a beautifully performed and recorded capture at Mechanics Hall in Worcester, Massachusetts of some of the most intricate and dynamic works of the celebrated late Romantic-era Russian composer Sergei Rachmaninoff (1873-1943).
A conductor, composer and pianist of virtuosic reputation, Rachmaninoff's music is notoriously difficult to perform, and those musicians who take on his repertoire require a requisite amount of expressive dynamism, musical sophistication and their own instrumental virtuosity. And, like the finest Western art musicians of today, the trio here handles all of this (and more) with ease, expressively and flawlessly traversing the multiple arcs of this timeless and grand music. The iconic Romantic gestures and the endless melodies present within multiple compositional strains and parts (for which Rachmaninoff was celebrated), capture the early 20th-century Russian experience and bring forward an expressive range of both sorrow and joy that demonstrates to listeners what truly great performances of wonderful music are capable of conveying.