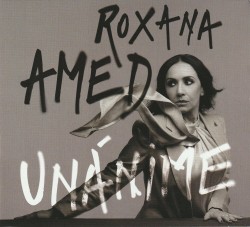 Unánime
Roxana Amed
Sony Music Latin 19658748082 (roxana-amed.com)
This inspired, gorgeous, relevant project from multi-Grammy nominee Roxana Amed is a joyous celebration of the works of both contemporary and historic Latin-American composers, as well as Miles Davis, Edward Perez and Martin Bejerano.
Amed views "Latin" as a very open concept, as well as the unifying geno connection that the title implies, and she has made this concept of unity the focus of a stirring and deeply magical recording. The Argentinian emigre has surrounded herself with some of the most exceptional Latin musicians on the planet, including her long-time collaborators, Cuban/American pianist and arranger Bejerano, bassist Perez and drummer Ludwig Afonso.
First up is a re-envisioning of Miles Davis' Flamenco Sketches in which Amed's sultry and evocative tones wrap themselves around the listener in waves of warm, horn-like sonic joy. The emotionally moving arrangement manifests a sacred vibration and Niño Josele's viscous soloing on acoustic guitar speaks to us at the very molecular level. Brazil's legendary Egberto Gismonti is feted here with a potent version of his composition Agua y Vino. The dusky tones of Amed's sumptuous voice weave a haunting web, while Chico Pinheiro's guitar transports us to another realm. Of special note is Los Tres Golpes, a song from Cuban icon Ignacio Cervantes featuring the volcanic Chucho Valdés on piano. The deeply moving closer, Adios a Cuba, is another beloved Cervantes composition, rendered to perfection with the angelic collaboration of Amed and Valdés.