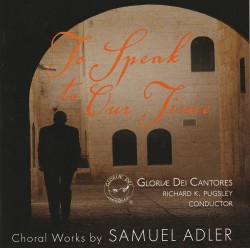 Samuel Adler – To Speak To Our TIme
Gloriae Dei Cantores; Richard K. Pugsley
Gloriae Die Cantores GDCD 066 (gdcrecordings.com/new-release-samuel-adler)
With over 400 published works to his name, Samuel Adler is a composer who is difficult to fit into a single category or niche. This recording focuses specifically on Adler's religious choral music and how the composer's versatility and wide-ranging style take us on a journey blending contemporary musical techniques with the influence of his Jewish heritage.
Adler was born in Mannheim, Germany, where his father was a highly respected synagogue cantor and liturgical composer. Within a year after the nationally orchestrated pogrom known as Kristallnacht, the Adler family emigrated to America, where the elder Adler obtained a position as a cantor in Massachusetts and Samuel began demonstrating his musical talents. He became his father's choir director when he was only 13 and remained at that post until he began his university studies. During that early period, he began composing liturgical settings, at first under his father's influence and soon developing his own style.
From the very beginning of this recording, the opening A Hymn of Praise demonstrates this Jewish influence, setting the text to a traditional Yigdal melody commonly known as the hymn tune LEONI. The remaining texts, taken from the Psalms and Old Testament, recount God's goodness on the journey of life and through the hills, valleys and mountaintop, and every emotion from pain to joy, disappointment to elation and sorrow to hope. The musical settings of these texts are a delight to the ears, wonderfully rich and robust, and brought to life with energy and joy by Gloriae Dei Cantores and their director Richard K. Pugsley.