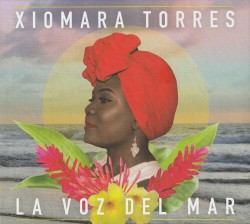 La Voz Del Mar
Xiomara Torres
Patois Records PRCD028 (xiomaratorres.com)
The African Diaspora transported a variety of seminal musics and rhythmic forms to the Americas, which have also contributed heartily to North American blues and jazz. This luminous project (translated as The Voice of the Sea) honours the Afro-Colombian musical tradition, and was deftly produced by San Francisco-based vibraphonist Dan Neville and Colombian vocalist Xiomara Torres. All of the consummate arrangements were created by Neville, and the recording itself was done entirely in Cali, Colombia. In his profound collaboration with vocalist Torres, this CD stands as a living tribute to Torres' esteemed uncle, master marimbist and international "Music de Pacifica"/Afro-Colombian icon, maestro Diego Obregon.
Torres lovingly embraces her traditional roots here, while travelling seamlessly through a number of contemporary Latin motifs. First up is Me Quedo Contigo. Torres' timbre is soft and sensual here, and her vocals are also pitch perfect, vibrant and filled with emotional gravitas. Neville has insured that she is never overwhelmed by the potent and complex rumba Guaguancó arrangement, which is rife with horns, vibes/marimba and incendiary percussion.
Tarde Lo Conoci is a totally delightful Vallenato – a musical form that one could easily hear in the barrios of Cali, Colombia or Queens, NY – featuring accordionist Miguel Salazar, while Tio is a family affair, written by Diego Obregon and featuring his son David on bass and daughter Michel on chorus vocals. The lively tune begins as a currulao and segues seamlessly into a Colombian rumba. Irresistible stand-outs also include La Puerta, a romantic and ethereal bolero (ballad) and the spinetingling closer – the traditional Filomena – a surprising jazz/Pacific Coast Music fusion featuring the iconic Nidia Góngora and muy hermosa marimba work by Neville.