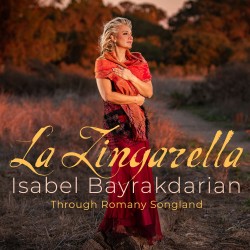 La Zingarella: Through Romany Songland
Isabel Bayrakdarian; Gryphon Trio; Juan-Miguel Hernandez; Mark Fewer
Avie Records AV2506 (avie-records.com/releases/la-zingarella-through-romany-songland)
Gypsies, Romanies, Zigeuner, Gitans – however they were named, the peripatetic people from north India who entered and traversed Europe in medieval times were everywhere scorned as mountebanks, maligned as thieves. Nevertheless, the wanderers' music, with its exotic timbres, vibrant rhythms and soulful melodies, has been an enduring source of inspiration for innumerable composers, including the 11 on this CD.
Multi-Juno-winning soprano Isabel Bayrakdarian, singing here in German, Czech, Spanish, French and English, is joined by violinist Mark Fewer, violist Juan-Miguel Hernandez and the Gryphon Trio performing vigorous, freshly created instrumental arrangements by Peter Tiefenbach and John Greer.
Accounting for 15 of the disc's 27 tracks are two song-cycle masterworks known in English as "Gypsy Songs" – Brahms' Zigeunerlieder, Op.103 and Dvořák's Cigánské melodie, Op.55 (including the much-loved Když mne stará matka – "Songs My Mother Taught Me"). Three sassy, saucy Spanish songs by Sebastián Iradier are especially ingratiating; the third, El arreglito (Canción habanera), was the tune Georges Bizet borrowed and slightly modified for the CD's following track – the Habanera from Carmen!
Bayrakdarian is in fine voice and exuberant high spirits for these mostly high-spirited selections, yet poignant or sensuous when appropriate. Songs by Franz Liszt, Joaquín Valverde and Henry F.B. Gilbert, plus arias from operettas by Maurice Yvain, Franz Lehár, Emmerich Kálmán and Victor Herbert, all reflect these composers' admiration (not "appropriation") of a marginalized ethnic minority's distinctively spicy, rhapsodic music. This exhilarating cross-cultural excursion is enthusiastically recommended!