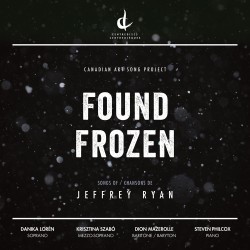 Canadian Art Song Project: Jeffrey Ryan – Found Frozen
Danika Lorèn; Krisztina Szabó; Dion Mazerolle; Steven Philcox
Centrediscs CMCCD 30222 (cmccanada.org/shop/cd-cmccd-30222)
Canadian Art Song Project (CASP) – a national treasure of an organization that perennially commissions, performs and records the art song canon of our country – has just released a consummate record of Jeffrey Ryan's music. Ryan has come to be regarded as an important compositional voice in Canada and here, his unassuming, sensitive lyricism and narrative panache make for a first-rate audio survey of songs.
This new album casts a cyclic triptych featuring eminent voices framed by the superlative pianism of Steven Philcox: the urgent, theatrical soprano of Danika Lorèn; the silken, magnetic mezzo of Krisztina Szabó and the lush, brazen baritone of Dion Mazerolle (whose sensual performance of Ryan's earliest cycle is amorously candid).
The two youthful cycles on this disc – Of Passion's Tide and Found Frozen – date from 1991 and 1997, respectively. Here we note Ryan's vernal approach to the genre, flattering both singer and pianist alike with full-blooded melody and neo-Romantic gesture. (The marked song style of American composer Ned Rorem comes to mind.) There is a quality in Ryan's musical language that feels familiar, shaped – perhaps involuntarily – by folk traditions: a Canadian lingua franca, earnestly cultivated and sung from the heart.
A departure from the early essays, Miss Carr in Seven Scenes (2017) employs austere accompaniments and dark, wistful lines. Conversational and at times monodic, Ryan's new set is expertly realized by Szabo, whose refined acting and characterful musicality blazons on full display.