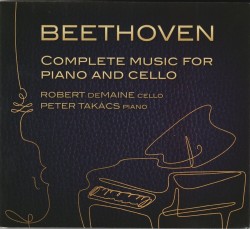 Beethoven Complete Music for Piano and Cello
Robert deMaine; Peter Takács
Leaf Music LM233 (leaf-music.ca)
Listen
Sonata for Piano and Cello in F major, Op. 5No. 2: Rondo. Allegro Vivace
Twelve Variations in G Major on "See the conqu'ring hero comes!" WoO 45 from Handel's Judas Maccabaeus
Sonata for Piano and Cello, Op. 102, No. 2 I. Allegro con brio
Read the Review
There's another 2CD set of Beethoven Complete Music for Piano and Cello, this time by Robert deMaine, the principal cellist of the Los Angeles Philharmonic, and pianist Peter Takács (Leaf Music LM233 leaf-music.ca).
The five sonatas – Op.5 Nos.1 & 2, Op.69 and Op.102 Nos.1 & 2 – are joined by the three sets of variations: the 12 Variations in G Major on Handel`s "See the conqu'ring hero comes," the 12 Variations in F Major on "Ein Mädchen oder Weibchen" and the Seven Variations in E-flat Major on "Bei Männern, welche Liebe fühlen", both from Mozart`s Die Zauberflöte.
DeMaine plays with a quite dark and rich tone, but tends to sound a bit muffled or indistinct at times, as if set too far back in the balance. There's fine playing and ensemble work here though, particularly in the really tricky Allegro vivace movements.