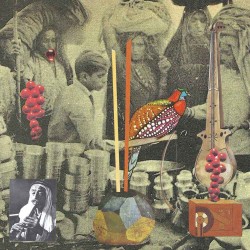 El Violín Dorado, El Violín Arabe
Pablo Picco's Bardo Todol
Full Spectrum Records (fullspectrumrecords.bandcamp.com)
Sound exploration is at the core of the ongoing Bardo Todol project by Argentinian composer and sound artist Pablo Picco. Bypassing linearity and direction in favour of capturing what is heard in each moment, Picco creates a wonderful sense of immediacy that is not urgent but encompassing, and spontaneity that is raw and unfiltered.
El Violín Dorado, El Violín Arabe is the recent addition to this experimental series of ongoing recordings; it focuses on the subject and implementation of desert as a soundscape. Picco centers his compositions around field recordings, which he acquires on daily walks with his children. The simple instruments they play on the walks then become a part of the big organic sound and that sound is further manipulated digitally. Improvisation is an essential part of this process and adds to the unique expressiveness of the overall sound. Silence between the main blocks of sound then becomes a thread that connects them into the sonic story.
El Violín Dorado, El Violín Arabe (The Golden Violin, The Arab Violin) focuses on distorted violin, other string instruments, drums, Arabic devotional music and grainy vinyl textures. Both soundscapes have an element of bleakness and distortion. The sound morphs constantly, through a clever use of spatiality as well as through what is not heard. The noise is intercepted and transmitted throughout, allowing us to hear both concrete and imaginative projections of what the desert is. Inventive, immediate, this gem requires active listening.
Note: this release is a limited edition cassette or high quality digital download via select online retailers.