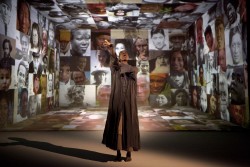 When asked what was the initial inspiration for Century Song, Neema Bickersteth says she wanted to see if she could sing and dance at the same time.
From that initial experimenting grew a beautiful, moving, and yet enigmatic piece of music theatre that defies definition. It is part opera, part dance, part video installation, and all intriguing collaboration by Bickersteth and her creative partners both onstage and off. Musicians Gregory Oh on piano and Ben Grossman on percussion and computer are visible and intimate partners in the live experience, and Kate Alton (choreographer), Ross Manson (director), and video creators fetFilm, Germany Hinrichs and associates Cameron Davis, Kaitlin Hickey and Jeremy Minnagh, have worked together with Bickersteth to create a seamless combination of many elements into a short (50-minute) but satisfying whole.
Without being too specific or detailed, Century Song gives us a glancing glimpse of the history of black women in Canada over the last century, in a format that references and evokes Virginia Woolf's Orlando without losing its own identity. There is a deep seriousness to the piece and yet also a sense of fun that grows as it moves along the timeline from the early 1910s through the later 20th century to the modern day. Interestingly, the fun elements come mostly through some very clever time-hopping and era-juxtaposing video sequences, featuring Bickersteth in many guises.
The decision to stick with vocalises – wordless songs – felt right, though by the end I felt that if there was a longer version, or a companion piece, that I would want words to be back in the recipe. I had first encountered Neema Bickersteth back in 2010 as a talented singing actor in both Euripides' Iphigenia at Aulis at the SummerWorks Festival and then in Staniland and Battson's dramatic oratorio Dark Star Requiem at Luminato, so I was curious to see her in this concentrated spotlight and in the role of creator as well as performer. Century Song is a great showcase and an intriguing hors d'oeuvre to what she may create in the future. The answer to her beginning question? Yes, she can sing and dance at the same time, and beautifully.
Century Song has toured across Canada, the UK, and to Belgium and runs in Toronto until April 29 at Streetcar Crowsnest, Crows Theatre's very attractive new home at Dundas and Carlaw. $15 Rush tickets are available in person half an hour before the show.
Toronto-based "lifelong theatre person" Jennifer (Jenny) Parr works as a director, fight director, stage manager and coach, and is equally crazy about movies and musicals.