Part 2 of a 2-part series, where WholeNote writer Karen Ages attends Ottawa's Music & Beyond – and gains new perspective on a familiar city.
July 8: It's Saturday late afternoon and I'm meeting a friend to drive out to the Diefenbunker in Carp, about a half-hour west of Ottawa. We arrive early for an event, hosted by Ottawa's Music & Beyond festival, titled "Beyond the Bomb: Music of the Cold War." There's a community brass band assembled on the helicopter landing pad nearby, providing a nice diversion while we await admittance.
It's my first time here and I'm not sure what to expect. A nondescript, shack-like structure juts out from the side of a grassy hill, making it anyone's guess what lies beyond. When we finally enter, I'm amazed by the extent and complexity of the whole thing. I'd heard of the Diefenbunker, and imagined it might consist of a couple of rooms below ground, providing food and shelter for the Prime Minister and his family in the event of nuclear war. I had no idea that it was in fact designed to house the federal government and certain military personnel in case of such an attack. Built between 1959-1961, the Diefenbunker is a multi-level complex of many rooms complete with everything needed to communicate with the outside world (it was in use for over 30 years, then decommissioned and cleared of its contents in the mid-90s – so the furnishings of today's museum had to be re-acquired).
We enter through a long tunnel and are greeted by the sounds of Victor Herbiet's saxophone. Beyond are various rooms, where musicians give mini-concerts as audience members wander in and out of their midst. Theremin virtuoso Thorwald Jørgensen and pianist Valerie Dueck occupy one room, playing Rachmaninoff's Vocalise when I enter. Percussionist Zac Pulak and his xylophone are set up in the Federal Warning Centre, a room complete with rows of old rotary phones labeled "civil defence" or "nuclear defence." Guitarist Roddy Ellias plays works by Cuban composer Leo Brouwer, in the War Cabinet Room. A room simply called Requiem serves as a memorial to the victims of Hiroshima and Nagasaki; here harpist Caroline Léonardelli and flutist Pascale Margely play traditional Japanese music. Bassoonist Ben Glossop occupies the CBC Emergency Broadcasting Studio playing excerpts of Shostakovich with the aid of a reverb machine. Pianist Christopher Kornienko is taking requests in the Morgue (not sure exactly what this room's intended use was, but that's what it's called), and has the audience spellbound by his rendition of Beethoven's Moonlight Sonata. And way underground (I'm now donning my sweater) in the cavernous Bank of Canada Vault which was built to shelter our gold reserves, cellist and festival artistic director Julian Armour, with pianist Frédéric Lacroix, play works by Robert Fleming and a Japanese folk song arranged by Gabor Finta. There's free food, drink and a jazz trio playing in the cafeteria. Obviously not all of the music is from the Cold War period, but it's a unique experience all the same. We are greeted by a full moon as we exit the bunker on this fine summer evening.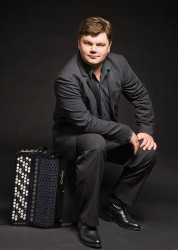 July 9: Quartetto Gelato, Canada's classical quartet whose repertoire spans opera to tango and beyond, draws a full house at St. Matthew's Anglican Church in the Glebe area of Ottawa. Founded 25 years ago by violinist and tenor Peter De Sotto, this ensemble blends virtuoso playing with its own brand of presentation and humour, and has been wowing audiences worldwide. There are too many works on the program to list, all arranged for the ensemble, highlighting the spectacular talents of each member. Four-time world champion Alexander Sevastian plays a "bayan" style accordion, and his fingers fly effortlessly across the 227 buttons. My favourite bit of the concert is a piece called Pipes, a traditional bagpipe tune arranged by the group's oboist, Colin Maier. The feat that we witness in this piece is Colin's ability to circular breathe. He plays the entire tune, which uncannily imitates the melismatic sounds of a bagpipe, in what seems to be one breath, without once taking the oboe reed out of his mouth! Everything on the program is played from memory (which is a feat in itself), and cellist Greg Gallagher, who is relatively new to the group, does a fine job too.
July 10: By contrast, on July 10, another quartet, Constantinople, gives an early evening concert in the beautiful sun-lit atrium of the Delegation of the Ismaili Imamat, situated on Sussex Drive beside the Saudi Arabian embassy, across from the Ottawa River. The building serves as a de facto embassy for the Aga Khan. Opening remarks are delivered by Amirali Alibhai, head of performing arts at Toronto's Aga Khan Museum, whose mission is "to build bridges between cultures through the arts". The concert, titled "Itinerant Gardens," is described as "a poetic encounter between strings and voice, from the epics of the Mandingo Kingdom to the music of the Persian court." The ensemble itself represents a meeting of cultures: there's a seven-stringed viola da gamba, a 21-stringed Kora (African harp) played by Ablaye Cissoko of Senegal, a four-stringed long-necked Persian setar played by Kiya Tabassian, and various gentle-sounding percussion instruments. The music in this concert is meditative, sublime, and beautiful in an understated way, all arranged by Tabassian and Cissoko, who also provide vocals.
There's time for a quick bite before I head over to First Baptist Church for the 7:30 concert. The aforementioned theremin virtuoso Thorwald Jørgensen is again joined by pianist Valerie Dueck, for a full-length program that also includes violinist Marc Djokic and percussionist Zac Pulak. The theremin has incredible range, at times sounding eerily similar to a double bass or cello, a violin or even a human voice. Jørgensen started out as a percussionist, but desiring to play an expressive instrument and inspired by the recordings of Clara Rockmore, switched to theremin. The five pieces on the first half were all written for theremin, and include Distant Shores, by Jørgensen himself; employing voice and a loop pedal that captures and repeats live sounds, the piece evokes the ebb of waves on a shoreline, complete with seagulls. Re-turning, by Daniel Mehdizadeh (who is in the audience), is an enchanting work for theremin, marimba and vibraphone. The second half of the concert features works not composed originally for theremin but that are well suited to it, such as Ravel's Pavane pour une infante défunte and Pièce en forme de Habanera, Villa-Lobos' Bachianas Brasilieras No.5 and of course, the Rachmaninoff Vocalise. The most impressive however is Rimsky-Korsakov's Flight of the Bumblebee - Jørgensen's remarkable hand dexterity makes this the most convincing and bee-sounding version of this piece that I've heard!
July 11: It's noon and I'm again at First Baptist for part three of the "150 Years of Music in Canada" series. Elaine Keillor is back with four piano works by composers born in the 1800s; the first is by George W. Strath, who claims to have studied with Mendelssohn, and was the first to obtain a PhD in music from U of T's Trinity College. This is followed by a work by Charles A. E. Harris of Ottawa. Next are two pieces that evoke the marching band: Cave of the Winds by R. Nathaniel Dett, who was born in Ontario but spent most of his professional life in the US and was the first African American to earn an honorary doctorate from Oberlin College; and Imperial Native March by Job Nelson, an Indigenous composer of the Nisga'a Nation. Following are works for strings alone or with piano. The only living composer on the program is present – Jan Järvlepp explains that In Memoriam was composed in the palliative care unit of a Mississauga hospital where his brother lay dying. This moving string quintet is performed by Marc Djokic and Jasper Wood, two of Canada's best violinists, violist David Marks, cellist Julian Armour and bassist Paul Mach. Another moving work, performed by Wood and pianist Frédéric Lacroix, A Child's Cry from Izieu by Oskar Morawetz (1917-2007), was inspired by the transport of children from the French town of Izieu to Auschwitz (for more details see https://www.musiccentre.ca/node/26261). This is followed by lighter fare – Morawetz's arrangement of Dvořák's Humoresque and works by Healey Willan and Sir Ernest MacMillan.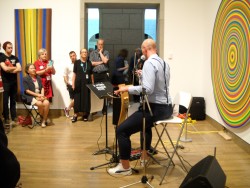 In the evening, I attend the National Gallery Soirée. The National Gallery of Canada, one of our country's finest art galleries, becomes a literal playground for musicians of all sorts – as the audience wanders the gallery, we encounter not only the artwork on the walls but music that is contemporary or thematically related to it. A flutist is costumed identically to the one in a painting in front of which he performs. A harpist (one of three this evening) plays French music near paintings by Monet and others. Jørgensen and his theremin are stationed in a room of 20th-century art. There are also Baroque dancers, Inuit throat singers, two choirs, an Indigenous singer/drummer...and so on. The highlight for me is hearing the glorious Capital Chamber Choir perform in a large room with a high ceiling – the sound is truly astonishing. In the Great Hall, a jazz trio performs as festivalgoers sip wine.
July 12: It's my last day in Ottawa before heading back to Toronto and part of me feels I should attend to other business rather than hear more concerts, but I'm overcome by a sense of FOMS (Fear Of Missing Something), so hop on my bike and head downtown. Studio de musique ancienne de Montréal is at Church of St. Barnabas. This early music vocal ensemble consists of three women, two men and a lute player. They present a concert titled "Of Love, Drinking and Revelry", madrigals and chansons of the Renaissance. Part One consists of love songs by Monteverdi, Banchieri and Luis de Narvaez. Part Two features drinking songs – there's one attributed to Henry VIII, another by Banchieri in which the singers imitate various animals, with cuckooing, meowing and barking – as well as songs by Lassus and Pierre Attaingnant. Part Three features contemplative songs by Arcadelt, Gibbons, Hassler and Dowland. Part Four is titled "Folies" and features a work by Gesualdo and Part Five presents songs of hope by Dowland and Sermisy. I am struck by the smooth velvety blend of the voices, the impeccable intonation and expressiveness of this wonderful ensemble. The church acoustics are a perfect fit too.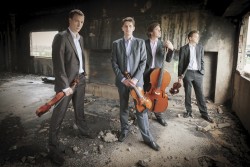 Lunch, then I head over to Dominion Chalmers to hear the Bennewitz Quartet, a string quartet from the Czech Republic. "Lost in the Holocaust" is the first of three concerts they'll be giving at the festival and it's their first time ever performing in Canada – and hopefully not their last! My earlier sense of FOMS was warranted – these guys are magnificent players, both individually and as an ensemble. The program features works by three composers, all born in the Austro-Hungarian empire, who perished in Nazi death camps: Viktor Ullmann's String Quartet No.3 Op 46; Erwin Schulhoff's Five Pieces for String Quartet, described by the second violinist as a Dadaist work; and the String Quartet No.2 Op 7 by Pavel Haas, a complex programmatic work with descriptive movement titles. The quartet is joined by percussionist Zac Pulak in the final movement. All of the works have profound beauty and are masterfully crafted. It's sad to think of what these composers might have achieved later – Ullmann and Haas were in their mid-forties when they died, Schulhoff in his fifties. The Bennewitz formed in 1998 and consist of Jakub Fišer and Štěpán Ježek, violins, Jiří Pinkas, viola, and Štěpán Doležal, cello.
For what will be my last concert of the festival, I head back to Church of St. Barnabas in the evening to hear a harpsichord recital by Mélisande McNabney. There's a small but very enthusiastic audience for this concert of 17th- and early-18th-century French repertoire, mostly inspired by other instruments and transcribed for harpsichord by the composers or McNabney herself. I'm blown away by not only the technical mastery of her playing, but by the remarkable expressivity with which she realizes the works – the harpsichord is limited in that there's no sustain pedal and no variation in volume, but this doesn't matter in the hands of this very accomplished and sensitive musician. The program consists of works by D'Anglebert, Rameau and Forqueray. After the concert, McNabney gives an informal "show and tell" of the instrument for the curious.
The festival continues until July 17, including a recital by mezzo-soprano Wallis Giunta on July 14 and a not-to-miss performance of Bach's Mass in B Minor on July 16 . For more information on what's coming up, and other concerts I've missed, visit www.musicandbeyond.ca
Born in Ottawa, Karen Ages is an oboist and music writer based in Toronto. She can be reached at karen@thewholenote.com.