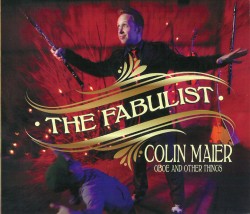 The Fabulist
Colin Maier
Independent CMCD 002 (colinmaier.com)
Currently best known as the oboist with Quartetto Gelato, Canada's popular classical touring ensemble, Colin Maier is a man of formidable talents that go far beyond playing the oboe. Remember the opening ceremonies of the Vancouver Olympics of 2010? Maier was the guy playing violin in the flying canoe. Having performed as an actor, dancer, stuntman, martial artist and acrobat, what first brought him to the Toronto area was a gig as a hobbit in the stage production of Lord of the Rings. The Fabulist is Maier's second solo CD and an absolute delight on so many levels. Displaying flawless technique, Maier is not only a master of the oboe but also plays a staggering number of other instruments on this recording, including woodwinds, strings, strummed instruments, percussion and musical saw. And he also sings!
This recording is sheer fun – the choice of repertoire indicates that it doesn't take itself too seriously, yet there is nothing amateurish about it at all, except in the true meaning of the word! This labour of love is evident throughout the mish-mash of genres; there are a couple of classical pieces for oboe (the beautiful Poulenc sonata and a showy movement by Pasculli). The rest is a bit of jazz, Celtic, some commissions by young Canadian composers and tunes by Richard Rogers and Cape Breton singer-songwriter Buddy MacDonald. Maier is accompanied by pianist and recording engineer Mark Camilleri, his colleagues from Quartetto Gelato and others, including himself; most remarkable is the final piece from which the CD takes its title, by Rebecca Pellett, in which Maier is literally his own orchestra, playing 13 instruments via the wonders of multi-track recording. This must have taken hours to produce, but I'll bet it was fun!
If the darkness of winter is getting you down, drop everything right now and buy this CD! It is guaranteed to make you smile. To learn more about Maier, visit his website, colinmaier.com.