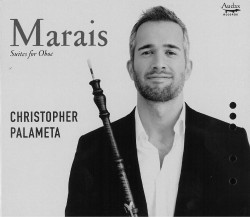 Marais – Suites for Oboe
Christopher Palameta; Eric Tinkerhess; Romain Falik; Lisa Goode Crawford
Audax Records ADX 13702
(audax-records.fr)
Fans of baroque music on period instruments will appreciate this recording, not only for its sheer beauty, but also as a musicological project. Baroque oboist Christopher Palameta, a Montrealer who did a four-year stint with Toronto's Tafelmusik Baroque Orchestra, currently lives in Paris and is in demand with period instrument ensembles in Europe and North America. This recording is a culmination of several years of research into some of the neglected works of French composer Marin Marais (1656-1728; some might recall Marais as the central figure in the 1991 movie Tous les Matins du Monde).
All of the music here is drawn from Marais' Piéces de viole; published in five volumes, the six suites included are from the second (1701), third (1711) and fourth (1717) volumes. While written for the viol, Marais himself insisted that his compositions could be played on a wide range of instruments, including the oboe; as Palameta explains, for technical reasons some pieces are better suited to a high wind instrument than others, particularly those written for the viol's top string – my understanding is that these are the movements selected and transcribed for this project.
Each of the suites is comprised of five to seven movements: beginning with a prélude. Typical dance movements follow, which might include a courante, sarabande, menuet, gavotte, gigue, and sometimes a rondeau champêtre, passacaille, or fantaisie for variety. My personal favourites include the muzettes in the Suite in G Minor, and the short but unusual La Biscayenne (referring to the Basque country of northern Spain) which concludes the recording.
Palameta plays with the highest degree of refinement and musical sensitivity throughout, displaying a velvety warm tone and fluid ornamentation. He is accompanied by Eric Tinkerhess (viola da gamba), Romain Falik (theorbo) and Lisa Goode Crawford (harpsichord). To learn more, visit ensemblenotturna.com.