Part 1 of a 2-part series, where WholeNote writer Karen Ages attends Ottawa's Music & Beyond – and gains new perspective on a familiar city.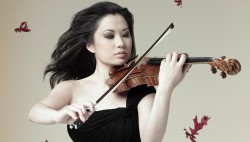 July 4: It's a half hour before the opening gala concert of the 8th annual Music and Beyond festival (July 4-17), and there's a substantial line-up outside Dominion Chalmers United Church. It's a beautiful summer's evening and I'm excited to be back in Ottawa, my hometown. Growing up here, I wasn't exposed to the cultural offerings of the city until early adulthood, and discovering first the Ottawa International Chamber Music Festival, then attending M&B last year for the first time, have been eye-openers to the cultural richness of the city. However, I never feel I've quite "arrived" in Ottawa in summer without a bike ride along the Rideau Canal, and it's partly for this reason that I decide earlier in the day to pick up my Festival Pass at the festival office itself, rather than at the concert venue.
My route from the Carlington area where I grew up cuts through the Experimental Farm; to my right lie vast green fields sprouting corn rows and where cows sometimes graze. To my left, beyond further sprawling fields, looms the Civic Hospital, where I was born. It's an uphill climb past the Agricultural and Food Museum to the traffic circle, past the Arboretum, then an easy downhill coast to Dow's Lake. It's mid-day: canoeists, kayakers, pedal-boaters and rafters are in abundance on the water; Canada geese loll on the grassy shore past the boardwalk, unperturbed by the steady stream of cyclists, joggers and other pedestrians on the nearby bike path. Soon the lake disappears behind me, giving way to the canal that in winter is the world's longest skating rink. Nearing downtown, I leave the bike path, passing the old drill hall from where the Band of the Ceremonial Guard launches its daily march to Parliament Hill for the changing of the guard ceremony, then head up Elgin St. past the newly renovated National Arts Centre. The War Memorial is to my left and the magnificent Chateau Laurier hotel lies ahead. I'm soon at the William St. office of Music & Beyond, situated in the heart of the historic Byward Market.
Tonight's concert features American violin sensation Sarah Chang, who debuted with the New York Philharmonic at age 8. A fanfare for seven natural trumpets delivered by red-coated and bearskin head-dressed members of the Canadian military (Ceremonial Guard?) is followed by opening remarks from the Festival board chair, the MPP for Ottawa-Vanier, Mayor Jim Watson, and the ambassador of Korea (given Chang's heritage, the embassy is a co-sponsor of the event and provides tasty treats for the post-concert reception). The repertoire is standard fare, spanning baroque through early 20th-century, but the playing is anything but ordinary – words like breathtaking, dazzling and exquisite come to mind, and pianist Julio Elizalde (who reads the entire concert off an iPad) does justice to Chang's virtuosity. The surprisingly Romantic-sounding theme-and-variationed Chaconne by Tomaso Vitali (1663-1745) is followed by Brahms' Sonata No. 2 in D Minor, Op.108. After intermission and a gown change from flowing floor-length blue to deep rose with sparkles, the familiar and oh-so-sensitively played opening bars of Franck's Sonata in A Major FWV 8 begin the second half, the last movement of which I'm pretty sure was used as theme music for a CBC radio show, back in the good old days of CBC music. Ravel's Tzigane, with its solo violin introduction and Slavic themes reminiscent of Brahms' Hungarian Dances for orchestra, concludes with a pyrotechnic display of passion. Following a standing ovation, Bach's sublime Air on the G String serves as an encore.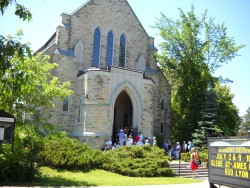 July 5: It's day two of the festival and I'll be hearing a couple of string quartets. Biking to the 2pm concert, I start on my usual route, this time crossing over the Bank St. bridge to the canal's east side where the festival faithful are clustered on the coveted random shady patches outside Southminster United Church. When the doors open, the audience streams in, filling the Gothic-style church in anticipation of the first of four concerts this festival by the Auryn Quartet. From Germany, they've played together for over three decades, and it shows. This concert features two substantial works: first, Beethoven's stirring String Quartet in C-sharp Minor Op.131, on which Schubert is said to have remarked "After this, what is left for us to write?" Around 40 minutes in length, it is played from beginning to end without breaks between movements. Schubert's Quartet in G Major D.887 follows intermission. The audience sits enraptured throughout both works, with only the tiniest sneeze during the whole concert.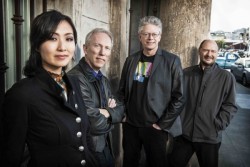 In the evening, I'm back at a packed Dominion Chalmers to hear the legendary San Francisco-based Kronos Quartet. With a focus on contemporary music, Kronos are the rock stars of the string quartet world. Some of the works on this program employ live electronics or amplification, and all of them were either written or arranged for the quartet. Dadra in Raga Bhairavi by N. Rajam employs an electronic drone, over which Indian classical florid lines are sometimes accompanied by Sunny Yang's expert hand percussion on the body of her cello, in imitation of the tabla. Canadian Nicole Lizée has written five works for Kronos; her piece Another Living Soul begins with two of the members spinning tone-generating plastic tubes. There's humming and foot stomping while playing, and at one point, the instruments are bowed by noise-making tubes that remind me of children's toys. Tanya Tagaq's Sivunittinni evokes the deep guttural sounds of Inuit throat singing, and the sometimes orchestral-sounding Baba O'Riley by Pete Townshend gives second violinist John Sherba a chance to shine at the end. The quartet's rendition of Gershwin's Summertime is likely the most languid and sexy version of this piece that I've heard.
In an encore composed by pipa player Wu Man, Silk and Bamboo from Four Chinese Paintings, violist Hank Dutt plays a variety of percussion instruments. A second encore, Strange Fruit, made famous by Billie Holiday, closes the program, which has been MC'd throughout by first violinist David Harrington. He has explained that the quartet is in the midst of a commissioning project called 50 for the Future, whereby 25 male and 25 female composers will write works for them that will be handed down to future generations of quartet players, all available via download from their website. For more about Kronos, visit www.kronosquartet.org.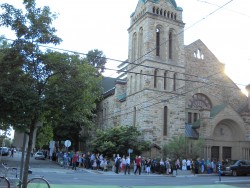 July 6: It's day three and I'm at the first of five concerts titled "150 Years of Music in Canada." There's a sparse crowd at Dominion Chalmers this noon hour – perhaps everyone else is over at Ottawa U's Tabaret Hall to hear the Whitehorse Chamber Choir, on at the same time. The concert opens with three works featuring soprano Cassidy Van Bavel – she's the 16-year-old daughter of composer Kelly-Marie Murphy and explains that in place of a programmed piece written for her by her mother that is no longer suited to her still developing voice, she'll be substituting a traditional Newfoundland song, She's Like the Swallow. Cassidy is accompanied by harpist Caroline Léonardelli on this and two other works. Pianist Elaine Keillor, who incidentally was the first woman to earn a PhD in Musicology from the University of Toronto, performs three works by Canadian composers born in the 1800s: Gustave Smith's Air Savoyard (composed in Ottawa), Calixa Lavallée's Mouvement à la Pavane (the last piano piece he wrote) and Chant de Voyageur by Susie F. Harrison. Pianist Lori Piitz performs more recent works: Rodney Sharman's dreamy and languid Gratitude; the Adagio from Jacques Hétu's viola concerto, where she's joined by Nicolò Eugelmi; and Denis Gougeon's Piano-Soleil from Six thèmes solaires, at times a technical tour de force. The program ends with the premiere of Kelly-Marie Murphy's Dr. Blue's Incredible Bone-Shaking Drill Engine, a rousing piece for solo percussion expertly played by Zac Pulak.
There's time for a quick snack and coffee before heading over to First Baptist Church for "400 Years of Opera." Hosted by Pierre Vachon, his commentary at the beginning and between each piece provides an illuminating view into the history of opera, from its beginnings in 16th-century Italy through to the present day. This is a rather lengthy concert; but the singers are all wonderful and it's worth the long sit! Soprano Myriam Leblanc, mezzo Marjorie Maltais, tenor Danny Leclerc and baritone Max Van Wyck are featured in works by Monteverdi, Vivaldi, Mozart, Rossini, Verdi, Bizet, Offenbach, Wagner, Gershwin and Bernstein. Pianist Maxime Dubé-Malenfant is their very able accompanist.
July 7: Day four – I've decided to attend only one event today: "Piano Legends" is an extraordinary blend of technology and the traditional Steinway piano. There's been a sudden venue change, and I'm able to grab a ride with complete strangers to the already-overflowing Dominion Chalmers social hall. Hosted by Troy Scharf of Steinway & Sons, this is an event unlike anything I've experienced. The piano for this event uses Steinway's Spirio technology: live video recordings of great pianists, from which the audio has been digitally reconfigured then fed into the piano, mimicking the exact touch of each pianist and performance; the keys are depressed as if a ghost is at the piano – it's like having Glenn Gould or Vladimir Horowitz right there! We're shown original videos of great pianists performing, but the sound comes from the piano in the room itself. There's Arthur Rubinstein playing a Chopin Polonaise in 1953, Rachmaninoff playing his own Prelude in C-sharp Minor Op.3 No.2 (this is the only work on the program with no video), Van Cliburn playing Chopin's Ballade No.3 Op.47 in 1959, and George Gershwin playing I Got Rhythm in 1931 to name a few. In addition, there are three Spirio pianos in the world that will record right from a live performance – we are treated to Yuja Wang playing Schumann's "The Smuggler", and piano duo Anderson & Roe playing Mambo from West Side Story – here's the video from that: https://www.youtube.com/watch?v=z8v-TIX87P0
Coming up: I'll be at the Diefenbunker for "Beyond the Bomb: Music of the Cold War," and will most likely catch Quartetto Gelato too – look for another post about these concerts and more. There's far more at this festival than I can possibly attend or write about, so to see what I've missed please visit www.musicandbeyond.ca.
Born in Ottawa, Karen Ages is an oboist and music writer based in Toronto. She can be reached at karen@thewholenote.com.