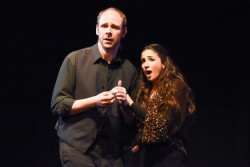 Summertime in Ontario is notorious for being the operatic off-season—but these days that's far from the truth. While it may be true that the region's largest opera houses more-or-less adhere to a conventional September-to-May season, an increasing number of local opera companies are making adventurous summertime programming a part of what they do. And in the last few years, those companies have really come into their own.
Summer Opera Lyric Theatre is one example. While it's been around as a summer opera workshop for emerging artists since the 1980s, it has increasingly been turning its focus towards creating productions that feel fresh and relevant for local audiences. This season, SOLT's roster of emerging opera singers will present three productions, between July 29 and August 6: Bizet's Carmen, Mozart's The Marriage of Figaro, and a Canadian double-bill—John Beckwith's Night Blooming Cereus, paired with Michael Rose's new one-act opera, Northern Lights Dream.
Part of what makes this year special is that all four operas—including the Bizet and the Mozart—will be sung in English. Also of note is Rose's Northern Lights Dream, which, in addition to drawing inspiration from Shakespeare's A Midsummer Night's Dream, will explore queer themes.
"The Rose work—a one act piece—is a world premiere, [and] deals with the coming out of a mature gay man and the effect it has on his wife," says Henry Ingram, who is on faculty at SOLT. He adds that coming-out stories that examine the experience of spouses are rarely told in the arts, especially in opera—but that operas that centre queer narratives have recently been gaining visibility. "Brokeback Mountain, Les Feluettes, Nico Muhly's Two Boys at the Met and Rufus Wainwright's commission for the COC on the Roman Emperor Hadrian are several examples that come immediately to mind," he says. It all reflects how SOLT plans to use the summer—a time when it can be tempting for arts presenters to retreat to conservative, 'back-to-basics' programming—to experiment, and to create programming that reflects the language, concerns and interests of contemporary local audiences.
Of course, when it comes to the summertime reinvention of contemporary opera, one indie opera company is king. After a summer in eastern Canada last year to premiere the Alexander Graham Bell opera The Bells of Baddeck, Bicycle Opera is back, with one of its biggest projects to date. Starting July 15, the company will embark on a three-week bicycle tour with the premiere of Sweat, an a cappella, one-act opera by composer Juliet Palmer and librettist Anna Chatterton—an ambitious departure from the company's usual practice of touring collections of very short single-scene operas and opera excerpts. Featuring four soloists (Stephanie Tritchew, Catherine Daniel, Larissa Koniuk and Keith Lam) as well as a five-member chorus, Sweat explores the ethical issues behind the global garment industry. The company's tour begins in Hamilton and includes stops throughout southern Ontario, closing in Toronto from August 3 to 6.
With both these productions, it seems as though this is the year that the companies have hit their stride—creating ambitious, large-scale works that feel relevant and refreshing, in the way that all summer music should be.
For a full overview of local opera this summer, see Christopher Hoile's June opera column, which serves as a helpful reference for productions taking place across the region from now until the fall.
Sara Constant is a Toronto-based flutist and music writer, and is digital media editor at The WholeNote. She can be contacted at editorial@thewholenote.com.