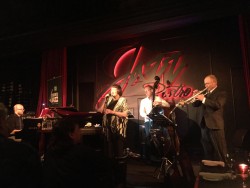 Now's the time to listen up to Sheila Jordan. 88-years-young and singing better than ever, she is at a creative peak, touring the world as jazz singer, educator and "jazz ambassador." Much is amazing about this beautiful songbird who weaves her soul's magic on all sorts of stages, changing lives one gig at a time. She does this all herself and always has, and as the song goes, she did it her way. "I've never had an agent or a manager," she once told me. "I'm not a diva, if you know what I mean. I just want to sing, teach, and spread the message of this music. Most of the gigs I get, I get from musicians."
On June 26 and 27, 2017, the TD Toronto Jazz Festival presented Sheila Jordan at one of the city's premier jazz venues, Jazz Bistro. Pianist Adrean Farrugia, bassist Neil Swainson and trumpeter Brad Goode all provided inspiring accompaniment for the singer. There were two performances nightly, at 7pm and 10pm, and I was fortunate enough to be in attendance for all four of them. (Thanks to Brian Chahley, the last set of the four can be viewed here: https://youtu.be/jecJbHKflhk.)
Before I get to the review of these appearances, just in case some of you reading this will say, "Sheila who?" I will give you a little introduction; for those curious about this woman's extraordinary life, music and legacy, I highly recommend Ellen Johnson's biography "Jazz Child: A Portrait of Sheila Jordan".
Sheila Jeanette Dawson was born on November 18, 1928 in Detroit to unwed teenagers. As a toddler she was raised by her grandparents, at one time 10 people sharing a room, in Summerhill, a poverty-stricken coal-mining town in rural Pennsylvania. It was there that she discovered her gift of expressing her woe through songs, her Cherokee bloodline seeping with chant into the likes of You Are My Sunshine, Downtown Strutter's Ball, Shine on Harvest Moon and When I Grow Too Old to Dream in the beer gardens for an inebriated crowd of coal miners. She returned to Detroit at 14, but her alcoholic mother's abusive husband drove the precocious child to early independence.
Then it happened – the moment that changed her life forever – sparked by a nickel in a jukebox. The record was Charlie Parker and His Re-Boppers and it was a huge eureka moment for her. The bold risks and expressive innovations of modern jazz, especially those by its magical main man, Charlie "Bird" Parker, struck a (bebop) chord deep within the adolescent, and since dedicating her life to jazz music 70 years ago, she has never looked back. Following Charlie Parker around from club to club, she and her friends inspired the song Chasing the Bird and Parker lauded her "million dollar ears." They were close friends until his death in 1955.
Bird lives on in Jordan's music to this day, his adventurous spirit felt in every note. On Tribute, her lyrics in dedication to Parker culminate in a sentiment her own fans can relate to: "…somehow I find it rather strange knowing that there are those of us who really love him, while so many aren't even aware of his name…" A memorable performance of this tune can be found here, in duo with bassist Harvie S – "bass and voice" being a collaborative form Sheila herself originated after experimenting with Charles Mingus in the early 1950s.
Sheila's life story is actually best summed up herself, in the tune Sheila's Blues which she recorded on one of her finest albums,The Crossing in 1984. It is an incredibly personal artistic statement, encapsulating not only her dazzling musicality, but also the honesty which makes it matter. There are a handful of brilliant versions of this song on YouTube, including this one posted last week, filmed in 1988 in Graz, Austria where Sheila was teaching a workshop, and this one from 2012 in front of an appreciative hometown crowd in Detroit.
Fast-forward to June 27, 11:21pm, TD Toronto Jazz Festival, Jazz Bistro, Toronto, Canada. Sheila Jordan and the Adrean Farrugia trio just finished performing her cathartic composition about recovering from alcohol and drug abuse, The Crossing, and there is not a dry eye in the house. Advertised by the festival as "one of the finest singers in jazz since Billie Holiday," Jordan's astonishing depth as a ballad singer was evidenced by songs she sent out to musicians who had touched her life. The second night in particular was poignant, in huge part by jazz pianist Geri Allen's passing. The 60-year-old jazz luminary was well-known for her spirited, deeply blues-oriented style of playing and composing. Jordan, a close friend of the artist, dedicated The Thrill is Gone to her, managing to avoid her own tears while inspiring a plethora in the audience.
Jordan's rendition of Abbey Lincoln's melancholy Bird Alone was imbued with a bossa nova beat that only enhanced its mood. Kenny Dorham's still-timely Fairweather was dedicated to its composer, an underrated trumpet player she urged the audience to check out. A splendid composition by Alan Broadbent and Dave Frishberg encouraged each audience member to follow their Heart's Desire: "I quit my day job at 58 and here I am today. It's never too late!"
Maybe what makes Jordan's ballads so arresting is the humour that surrounds them. Hardly trying to hide her age, she channels her inner child, improvising her own lyrics on the spot with consistently hysterical results. On a slowed-down tribute to Ella, titled Lady Be Good, she purposely didn't scat, but told the story of the first time she heard Fitzgerald, on a 78 she purchased with a quarter earned by scrubbing a woman's steps.
A genuine jazz giant in a tiny frame, it is Jordan's lightness of being, her casual ability to connect with strangers, that makes her not merely refreshing, but wondrous. Some 70 years after she first heard Bird, this sage storyteller is as fearless as she is precious; may she long continue to sing, swing and inspire.
Singer (with) Heart, Educator In-The-Moment! Loving Audiences
Jazzy Open Range, Dreamlike Agility; Now's the time to listen up to Sheila Jordan.
Sheila Jordan performed a total of four sets on June 26 and 27 at Toronto's Jazz Bistro, as part of the 2017 TD Toronto Jazz Festival.
Ori Dagan is a Toronto-based jazz musician, writer and educator who can be reached at oridagan.com.