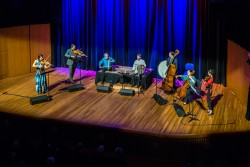 In my September 2015 WholeNote article on the Silk Road Ensemble, I explored the historic idea of the trade routes "collectively referred to as the Silk Road, an interconnected web of maritime and overland pathways, [which] have for centuries served as sites for cultural, economic, educational, religious – and purely musical – exchanges." Such 'silk roads' encouraged the exchange and development of ever-evolving cultural hybridities, which in turn have shaped the complexion of today's transnational musical world. Revisiting that notion at the close of the 20th century, the Grammy award-winning cellist Yo-Yo Ma proposed Silkroad as the name of his new non-profit organisation. Inspired by his global curiosity and eagerness to forge musical connections across cultures, disciplines and generations, that project has since grown several branches.
The first of its projects has proved to be the very successful performing and recording group Silk Road Ensemble (SRE). Under the artistic direction of Ma, the group seeks to "connect the world through the arts," presenting musical performances and educational programs, and fostering radical cultural collaboration around the world. Its mission? To represent "a global array of cultures…creating new forms of cultural exchange."
No strangers to north Toronto's Aga Khan Museum – especially since the museum's intercultural mandate neatly dovetails with SRE's – eight of the ensemble's members returned to the space last month for a multi-day residency (though without Yo-Yo Ma himself). Embracing the spirit of inclusion, their stay included a community workshop/jam on June 27 with close to two dozen Toronto world musicians. SRE wrapped up its residency with a well-attended public concert on June 29, in the museum's domed 340-seat auditorium. The show was divided into two distinct sections, both of which featured Kayhan Kalhor, the group's renowned Grammy award-nominated kamancheh (Persian bowed lute) soloist and composer.
The first half was titled Jugalbani, the common North Indian classical music term for duet, in which tabla virtuoso Sandeep Das joined Kalhor in a long, seamless improvisation. Kalhor was at his intense best, exploring elements of Persian classical music yet fluidly incorporating Kurdish folk melodies, a fusion he is known for. I was impressed by his extensive use of not only advanced bowing but also plucking, tapping and syncopated strumming techniques on the kamancheh, extending its expressive capabilities toward those regularly employed by Hindustani instrumentalists. Joining his playing effortlessly with Das's, it became clear during the course of the performance how their duo was "like a meeting of two lost cousins," as Das reflected in an earlier interview. Their duet in turn evoked sombre, peaceful, competitive, playful and joyous moods.
For the second half of the concert, a stripped-down SRE was represented by a string quartet, string bass and percussionist, in addition to kamancheh soloist Kalhor. The first of two extended compositions was American composer Colin Jacobsen's Beloved, Do Not Let Me Be Discouraged. Inspired by both Azeri mugham melodies and the 14th-century Italian laude genre, it received a vigorous rendering here, led by more brilliant playing from Kalhor.
Kalhor wrote his own composition, Silent City, to commemorate the destruction of the village of Halabja in Iraqi Kurdistan by Iraqi armed forces in 1988. The composer noted, "I chose to base the piece on an altered A-minor scale, using Kurdish themes to remember the Kurdish people." Beginning as an improvised lament, the work ends in a triumphant Kurdish dance in 7/8, framed in a satisfying complex harmonic setting.
The SRE workshop and final concert suitably complemented AKM's current exhibition: Syrian Symphony: New Compositions in Sight and Sound, which runs until August 13 and for which SRE is an associate and creative partner.
I visited Syrian Symphony in anticipation of the SRE concert. In it, leading Syrian artists and musicians collectively explore themes of conflict, the struggle to protect the region's cultural heritage, displacement and the determination to rebuild via large-scale painting, media arts and recorded music.
As well as experiencing emotionally moving images and music, visitors are further invited to interact with the exhibit. They can add selfies to those taken by newly arrived Syrians in Canada, and can place "icon discs" onto frames mounted on the gallery wall. These simple yet effective actions allow visitors to form personal connections to the current Syrian situation, and to the people caught up in its tragedy.
Members of the Silk Road Ensemble performed in concert at the Aga Khan Museum in Toronto, on Thursday, June 29 at 8pm. For more information about the Aga Khan Museum's programming and current exhibition, visit www.agakhanmuseum.org.
Andrew Timar is a Toronto musician and music writer. He can be contacted at worldmusic@thewholenote.com.