The boundaries of music theatre in Toronto continue to be stretched in all directions from Opera Atelier's The Angel Speaks, the brilliant "modern meets Baroque" extrapolation by composer Edwin Huizinga, choreographer Tyler Gledhill, and director Marshall Pynkoski, from Purcell's The Blessed Expostulation of the Virgin Mary, to the changing nature of what we know as the traditional stage musical into the most effective platform for exploring and dealing with some of society's darker and more difficult issues in such shows as Parade, Next to Normal, and Dear Evan Hansen. While the latter two have not yet opened as I write, Toronto Musical Concerts just presented a two-day run of a semi-staged concert reading of Jason Robert Brown's Parade. Based on real events – false accusation, mistrial, and eventual lynching of Jewish factory manager Leo Frank in 1913 Georgia – this is dark material. Despite this, or perhaps because of it, the theatre was packed for a strong rendition of this powerful work anchored by outstanding, magnetic performances from Eric Craig and Ma-Anne Dionisio as Leo and Lucille Frank. The content is so relevant to the evils faced by contemporary society, and the audience attention was so rapt, that I wouldn't be surprised to hear of a full production happening somewhere soon.
Another direction of the current redefining of music theatre being explored by an increasing number of companies is the move from purely text-based shows to plays where music is not only an important but an integral element of powerful theatrical storytelling. This is resulting in some fascinating and unique hybrids.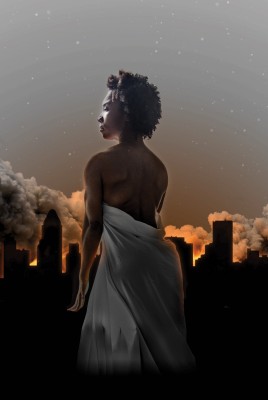 Toronto's Factory Theatre is hosting, in the latter part of its season, two productions from other Canadian companies that are experimenting in this way: Bears and Angélique. When I asked Factory's artistic director, Nina Lee Aquino, about the choosing of these two multidisciplinary shows, particularly if their incorporation of music as an integral element of storytelling was instrumental in her choice, she said:
"Not directly on purpose, but ... how the Canadian experience is presented on our stages is just as important as the what and the why. All the productions in our past seasons have had amazing, different, and unique containers of telling the Canadian story. It is necessary to be able to look at something in different ways, from different lenses and perspectives. It reminds us (and our audiences) to keep witnessing and listening to stories in prismatic ways. That's one of the more meaningful ways to learn from one another and become better human beings to each other."
Bears (an Alberta Aboriginal Performing Arts and Punctuate! Theatre co-production) which just finished its run on March 17, is unique in that it began with playwright Matthew Mackenzie exploring his newly discovered Indigenous heritage and wanting there to be a movement vocabulary along with his words to create the specific world and language of the play. From the beginning he worked with choreographer Monica Dottor as his co-creator to invent the show's physical language, then brought on board composer and sound designer Noor Dean Musani to develop a musical vocabulary to meld the two together. The result is an amazingly effective myth-turned-music theatre experience. With humour as an important element, the words, music and movement align to immerse us in a mythic yet completely modern wake-up call to recognize our ties to the earth and the need to save it from the inroads of industry and climate change.
Next in the season, Factory partners with Obsidian Theatre to present the Toronto premiere of Lorena Gale's award-winning musical play Angélique in a new production from Montreal's Black Theatre Workshop and Tableau D'Hôte Theatre that incorporates a live musical score throughout. Like Parade, Angélique is based on real events and another case of false accusations and miscarriage of justice. The location this time, though, is Montreal in 1734, where an enslaved Black woman, Marie Joseph Angélique, was accused and convicted of setting fire to the city although there was very little evidence against her.
I asked director Mike Payette why he feels this play written in 1998 is an important one to share with audiences now. He responded passionately about its contemporary relevance:
"Angélique is an urgent play that speaks to the immediate and historical systemic nature of oppression and racism within our country, but more importantly, as this is not a history lesson on slavery, it is about the life of a woman who is forced into an environment of abuse and servitude, unrelenting in her condemnation of slavery, and ultimately tortured and killed for something we will never know she did. This is a play that looks at the visceral qualities of us as human beings; the monsters that we have inside all of us and the questioning of whether we act on these monstrous thoughts. Angélique says at one point: 'And though I am wretched, I am not wicked.' I find this to be a compelling distinction of the human experience. In the pursuit of dialogue and understanding, Lorena Gale urges us to find the inherent and universal qualities of both the oppressed and the privileged; all this through a highly theatrical and contemporary experience."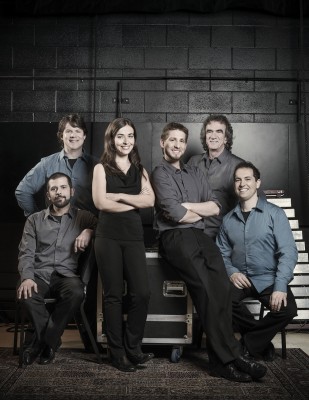 Music is central to the language of the play and particularly this production. As the director explains:
"I wouldn't call Angélique a musical theatre play, but it is indeed, musical. The score, composed by award-winning Sixtrum Percussion Ensemble, has myriad influences, from Afrocentric to European to popular, seamlessly heightening tension and giving breath when we need it most. The drum is central to this play, it is one of the last words spoken, and it becomes the instrument that is universal because it represents not only the rage of fire, but the swelling of a heart beat.
The score is unique to this production. From my understanding, although the script calls for dance and musicality, this is the first time the play has offered the music to be a character in and of itself. The musicians are ultimately always present, we allow ourselves to be swept by how they complement the action of the play, and ultimately it is but one of the elements of the production that makes it an exceptionally alive and aural experience."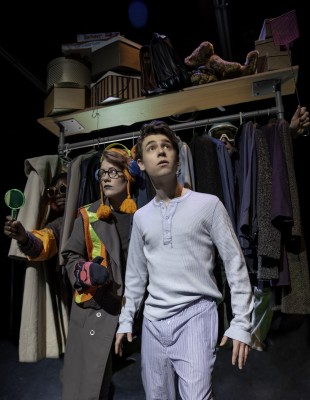 Under the Stairs at YPT
This fascinating concept of the music becoming "a character in and of itself" or having a very specific role, coincidentally is also true of the world premiere this month at Young People's Theatre (YPT) of acclaimed British playwright Kevin Dyer's Under the Stairs.
Innovative, poignant, and funny, the play tells the story of Timmy, a boy who tries to escape the throwing of plates and noise of his parents arguing by going into the cupboard under the stairs only to find that there are other children there, too. When Timmy's parents disappear, he enlists the help of the other children to find them. Together they uncover surprising secrets that could repair the turmoil in Tim's house. In the words of the playwright, "This is a story that is sung; a contemporary mash-up of free verse, prose and delicious music."
YPT's artistic director Allen MacInnis explained the unique roles of music and spoken text that the playwright imagined:
"YPT has produced two other new works by Kevin Dyer (The Monster Under the Bed and Minotaur). When he proposed this play, one of its many intriguing features was his idea that the turmoil in Timmy's home should be expressed entirely in singing while the quiet of the cupboard under the stairs to which Timmy retreats should be expressed in talking, no music. When we asked if he planned to write the music, Kevin said 'heavens no … but I think I know what it sounds like.' This set us on a journey to find a Canadian music theatre composer who could capture what Kevin heard in his head. We asked a number of people to set to music some of Kevin's poetic, rhythmic dialogue from sung sections of the first draft of the script. Having heard them all, the composer Kevin chose was Reza Jacobs. We couldn't have been more pleased to bring these two great artists together."
Jacobs, who will also be the music director for the show, is well known as an award-winning composer and music director for companies including the Stratford and Shaw Festivals as well as being the "Fine Furneaux Director of Music" for the Musical Stage Company, where he creates the musical reworkings of iconic songs for the annual Uncovered concerts as well as music directing regular shows in the company's season.
Playing the role of the mother in Under the Stairs, is Neema Bickersteth, one of our most versatile and accomplished cross-genre performers, known for her classically trained beautiful soprano voice, rich acting talent, and for her multidisciplinary theatrical work. When I asked her what it is like performing the "mash-up" of text, poetry and music in this show, and knowing that she will be playing to younger audiences, she said that in contrast to some of her other work this show is a natural extension of her everyday life:
"It is all mashed up so beautifully! When I'm at home with my kid, all our games are a mishmash of one thing flowing to the next. And in the moment, it all totally makes sense."
This points again to the inherent ability of music to connect with all of us, and how it is a part of our lives even if we don't specifically notice from moment to moment. Theatre creators are drawing more and more on this intrinsic power of music as a universal language, continuing to push the boundaries of how words and music can be combined together in a myriad of different ways uniquely appropriate to each theatrical story.
MUSIC THEATRE QUICK PICKS
APR 1 TO 16: Under the Stairs. YPT.
APR 3 TO 21: Angélique. Factory Theatre.
ONGOING: Dear Evan Hansen. Mirvish, Royal Alexandra Theatre. The almost entirely Canadian cast is just one of the reasons to see this multi-Tony Award-winning pop musical by Pasek and Paul.
APR 9 TO 11: The House of Martin Guerre. Theatre Sheridan. Canadian composer Leslie Arden's 1993 version of The Return of Martin Guerre seems to be making a comeback now that its rights, which were tied up for years, are available again. It had a successful concert performance at the Charlottetown Festival last September.
APR 9 TO MAY 5: Beautiful: The Carol King Musical. Mirvish, Princess of Wales Theatre, another chance to see the luminous Canadian star Chilina Kennedy reprise her Broadway triumph as Carole King in this biographical musical.
APR TO MAY 19: Next to Normal. Musical Stage Company. Ma-Anne Dionisio, continuing her season with the Musical Stage Company, leads the cast as a mother trying to deal with bipolar disorder in this urgently contemporary rock musical
Jennifer Parr is a Toronto-based director, dramaturge, fight director, and acting coach, brought up from a young age on a rich mix of musicals, Shakespeare, and new Canadian plays.