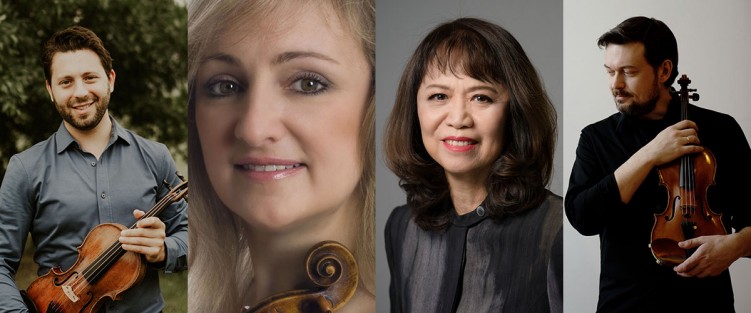 "A wild idea coming to fruition." That is how composer Alexina Louie summed up the nature of Esprit Orchestra's concert on November 27, featuring three exceptional concertmasters all based in Toronto and all sharing the stage, performing four violin concertos as part of Esprit Orchestra's 40th season (an amazing feat in its own right).
The idea of programming an entire concert of violin concertos was an idea cooked up by Esprit's conductor and music director Alex Pauk. Louie's response when Pauk proposed the idea was to push back: "How can you do that? How often have you heard three violinists playing three violin concertos on one concert? In all of my concertgoing days, I've never seen a concert like that." But Pauk persisted.
The concert will feature Aaron Schwebel from the National Ballet of Canada Orchestra performing José Evangelista's concerto Violinissimo, written in 1992, which Esprit has performed before; Marie Bérard from the Canadian Opera Company Orchestra performing John Rea's Figures hâtives written in 2006, a work she has previously performed; and Stephen Sitarski, Esprit Orchestra's concertmaster, performing a newly commissioned work, Six Enigmas, by Andrew Staniland. The concert will conclude with Louie's Triple Concerto for Three Violins and Orchestra that was commissioned by three different orchestras in 2017 to celebrate Canada's sesquicentennial year: The Toronto Symphony Orchestra, the National Arts Centre Orchestra and the Montreal Symphony Orchestra, performed, in that case, by each of their respective concert masters.
About writing a triple concerto, Louie commented: "It was quite a challenge for me to write the piece, because each soloist's part has to be equally as important. Even if you have two violinists you can have a question-and-answer structure, or a competition between the two. Two is doable, but three becomes a bit unwieldy. You can't have one violinist shine and the other two have rests." And how did she resolve this dilemma? "Each violinist has a moment with their own solo, and they also play as an ensemble with melodic lines that dovetail into each other. In some instances, there is a solo with the other two accompanying with harmony. Each one of them however has the same sheen on their part. There is very tricky interplay between the three violinists with interlocking and complex motifs."
Louie laughed at how demanding it was to complete the piece to her musical satisfaction. "I probably threw out more pages than I kept." Part of the challenge was because writing such a work is not a form that is familiar or that one has much experience with. "It's hard enough to write a concerto, but to write a concerto for three exceptional violinists was something your brain really has to think about."
The piece begins with a display of orchestral colour before moving into a falling motif marked sospirando, which means sighing. The audience begins to be lulled into an orchestral space and then suddenly the three violinists jump in, and the piece really begins to take off. She highlighted that there will be a lot of energy coming from the stage throughout the evening and, in her own piece, to expect a lot of fireworks and a very jubilant ending.
One of Louie's roles during the night of the performance, as she usually does at Esprit concerts, is to host the pre-concert chat. Often she is only able to speak with the composers, she explains, because the performers are getting ready to let loose on stage. This time, she says, she's going to try hard to get all three violinists to speak with her, as well as Staniland and Rea. "I will have a stage full of talking musicians and composers, which will be fun," she says.
Kronos Quartet
The Kronos Quartet will finally be returning to Toronto to present a three-part event, originally scheduled for January of 2022 as part of the 21C Music Festival, that had to be cancelled for COVID reasons. The December 6 concert will showcase the multimedia performance piece, A Thousand Thoughts, that combines live performance with a documentary film written and directed by Sam Green and Joe Bini created from archival footage and filmed interviews with composers such as Philip Glass, Steve Reich, Tanya Tagaq and Terry Riley. The focus of the piece is an intimate look at the Kronos's project Fifty for the Future, a free downloadable library of 50 contemporary works they commissioned to help introduce young string players to the various approaches of contemporary composition.
Two nights later, on December 8, Kronos will perform repertoire from the project with students from the Glenn Gould School. And finally on December 9, their concert Music for Change will be presented, with repertoire from Steve Reich (the Canadian premiere of his Pendulum Music) and a remix of Tanya Tagaq's piece, Colonizer, which arose originally while Tagaq was improvising with the film Nanook of the North close to New York City's Columbus Circle, a traffic circle with a monument to the colonizer Columbus himself at its heart.
New Music Quick Picks
NOV 12, 7PM: New Adventures in Sound Art. NAISA North Media Arts Center, South River. A program of video-music works focused on reflections on natural spaces by artists from a variety of disciplines. Featured is a new work by Hector Centeno commissioned as part of NAISA's 20th-anniversary project.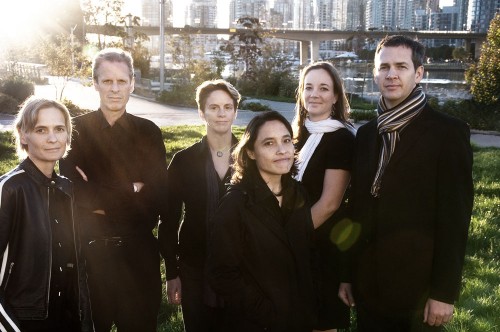 NOV 20, 8PM: New Music Concerts hosts the Standing Wave Ensemble from Vancouver in a concert program titled "Ex Machina at St. George" by the Grange Church. The Standing Wave Ensemble is the leading contemporary chamber music ensemble in Western Canada and is known for performing works full of experimental ideas and approaches. The repertoire for the evening includes works by Canadian composers Mari Alice Conrad, Bekah Simms, James O'Callaghan, and Gordon Fitzell. A special feature will be an arrangement by Jennifer Butler of Olivier Messiaen's Le Merle noir written in 1952. As a prelude to the concert, musicians from the Glenn Gould School will perform Derives I by Pierre Boulez.
NOV 24, 7:30PM: Music Gallery. A concert of music by Pouya Hamidi titled Sense of Place. Hamidi is a celebrated Iranian-Canadian composer, pianist and sound engineer. This, his first portrait concert, will highlight seven of his chamber music compositions from 2006 to 2018. Hamidi will be performing in several of the works, along with numerous musicians he has worked with over his career.
DEC 6, 7:30PM: The University of Toronto's Faculty of Music Contemporary Music Ensemble performs three works by European composers: Anahit – A Lyric Poem dedicated to Venus for Violin and Chamber Orchestra written in 1965 by Giacinto Scelsi, an Italian composer who also wrote surrealist poetry in French; Introduktion und Transsonation from 2020 by Georg Friedrich Haas, a composer from Austria known as a leading voice in the writing of spectral music; and Notes on Light, written in 2006 by Kaija Saariaho, originally from Finland and now based in Paris. She has also been influenced by spectral music, an organizing theme for the concert which is titled Re:SPECT(ral) Re:DUX.
Wendalyn Bartley is a Toronto-based composer and electro-vocal sound artist. sounddreaming@gmail.com