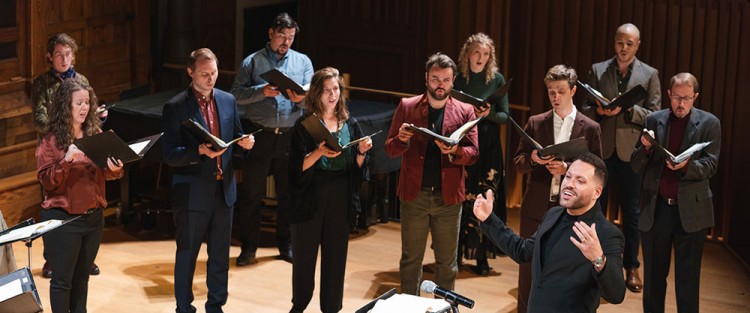 Here's some good news for a change: there's a new professional chamber choir in Toronto, the city that barely has any, and none independent from larger arts organizations. Meet the Toronto Mendelssohn Singers, the new 24-member chamber choir within the larger Toronto Mendelssohn Choir, now forging its own path, mostly by way of contemporary music and commissions.
When I met with the man behind the project, choral conductor Jean-Sébastien Vallée, to discuss the new ensemble, I couldn't think of more than a few other professional choirs in Toronto: Tafelmusik's chamber choir, the COC's chorus, Elmer Iseler Singers. That Choir became fully professional this year. Nathaniel Dett Chorale and Amadeus Choir also offer paid positions in their midst. Every other chorus or choir you encounter on Toronto stages will likely consist of unpaid singers.
Toronto Mendelssohn Choir, the old mainstay of Toronto's concert halls, used to have a chamber core of professional musicians – the Elora Singers, a different company with its own separate season – but is otherwise populated by talented unpaid musicians. Next time you see a big chorus above the orchestra at Roy Thomson Hall, it's worth knowing that all but 24 of the singers will be volunteering to be there.
Which will still be the case going forward. The big change that the new TMC music director Vallée has ushered in is the TMC's own professional core choir, which will perform its own concerts – effectively, have its own season – and specialize in repertoire created specifically for this magic instrument that is the a cappella chamber choir.
This new direction for the TMC organization, Vallée tells me when we meet for tea, was originally his proposal, already suggested during the hiring process. "From the start, I thought what we needed to do first is create a professional choir. The TMC used to have professional singers in their midst but they did not perform as a TMC chamber choir. They were also a different group, under a different brand. I felt we needed to create a professional choir entirely our own, with a full season which contributes to the bigger mission of the TMC."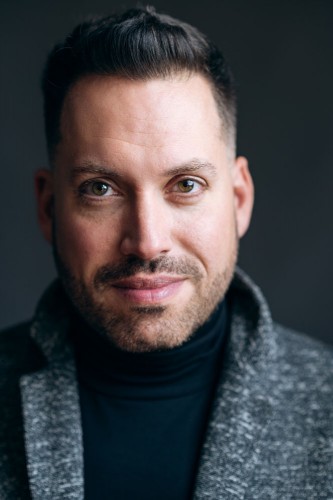 24 paying gigs
The original 20 paying gigs in the TMC were expanded to include four more. The Toronto Mendelssohn Singers are 24 people, but those will not always be the same singers concert to concert – though they will all come from the same auditioned and tested pool. "We re-auditioned everybody," says Vallée, "and we are happy to offer more work to the best of the best throughout the season: we're talking about 170 hours of work. We get to spend more time together. I get to know them and learn their strengths and they get to know me and get used to me. So far, it's been great."
When I met Vallée in September, the chamber choir was rehearsing for the first concert of the season, which would include an hour-long a cappella piece, Path of Miracles by Joby Talbot, composed in 17 voice parts. Another, shorter piece on the program was by the composer-in-residence for this year, Shireen Abu-Khader. This is another novelty. "For the first time we have a composer-in-residence for the year," says Vallée. "We will perform several pieces by the same composer on a given year. We'll perform one of Shireen's earlier works and three brand new ones, which will fit into our programming. Composers will be directly engaged with the choir: having discussions with us, being present in rehearsals."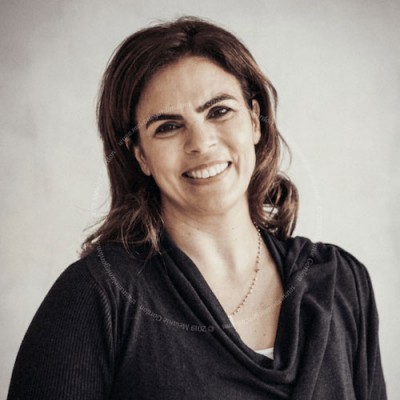 The beauty of a small group, he continues, is that you can be creative with locations. "We are looking at non-traditional venues. In March, we're performing at the Little Trinity church, a program around the theme of homelessness, but for next year we're looking at some old factories that we can use… I like situations where the music and the architecture create something together, either go well together or clash in productive ways. The audience is also smaller in the chamber choir context, and we can position singers in differently, depending on the venue."
The a cappella challenge
Will the TMS be focusing on a cappella chamber rep? "Yes, mostly. The challenge of singing a cappella is what makes it exciting. It doesn't take much for the human voice to change the pitch… it's fragile. Notes must be found out of the blue and maintained and landed back on with precision. I think that choral music at the highest level requires such a huge amount of skills for the singers. Good musicianship, technique, ear."
Not a lot of Canadian composers write for a cappella choirs, precisely because of this scarcity of the "instrument", I suggest. What attracted Vallée to choral singing – and choral pedagogy? "It's hard: that's its attraction. Human voice is dependent on so many things, including the change of season, group dynamics… It's musically demanding and also humanly demanding."
In terms of technique, he says, it's roughly the same to conduct a group of instrumentalists and a choir – but the sound is different and is tied to different gestures. "Your gesture for example for trumpet and strings will be different from the gesture shaping the human voice, because the sounds are produced in very different ways." As an associate professor of music and director of choral studies at the Schulich School of Music at McGill University, Vallée has developed a keen interest in the connection between gesture and audiation. "What informs my gestures during conducting? This is the way I hear the music in my head. This gesture I associate in my head with this kind of tone. Other singers too – without talking, without words, are moving with me. There are gestures that seemingly affect change in singing naturally, without being explicitly taught."
What is the connection? "There are studies now that look at mirror neurons, neurons that fire when you observe a gesture, without necessarily performing it physically. That's why for example when we listen to a singer with a tight jaw for 15 minutes we go 'wow my own jaw feels really tight'. It's not just empathy and understanding, it's neurological, it appears. Even how we walk and stand on stage will have effects. There are ways of affecting someone's performance that take place without singers even (consciously) knowing that it's happening."
Also Gearing Up: CHORAL QUICK PICKS
The Elmer Iseler Singers (EIS), conducted by artistic director Lydia Adams, enters its 44th Anniversary Season in 2022/23 as a 20-voice fully-professional choral ensemble. Founded by the late Dr. Elmer Iseler in 1979, their repertoire spans 500 years, but has a focus on Canadian composers. Upcoming: Handel's Messiah, Dec 9, at 7:30pm with special guest choir The Viva Chamber Singers of Toronto. And next: Spirit in Song, Apr 30, 2023 at 4pm, featuring a premiere work by Matthew Emery.
Upcoming: Handel's Messiah, Dec 16 and 17, at 7:30pm; Ivars Taurins once again leads the Orchestra, Chamber Choir, and a stellar cast of soloists in this long-awaited reunion. And next: Bach's St. John Passion, Mar 23 to 25, 2023.
With seven shows this season, where will the chorus show up next? Flying Dutchman and Carmen are over already. Upcoming: Marriage of Figaro, followed by Salome, Macbeth, Tosca and Pomegranate.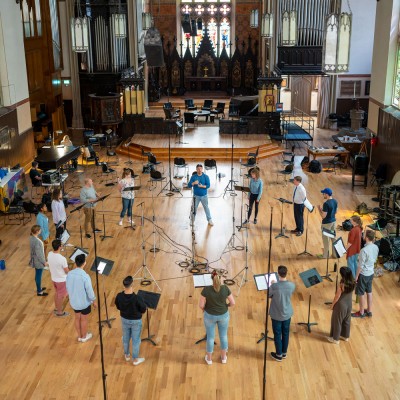 Upcoming: That Choir Remembers, Nov 11, an evening of contemporary choral music inspiring reflection. Their first program as a professional ensemble. And next: That Choir Carols, Dec 17; and That Choir Unplugged, May 13.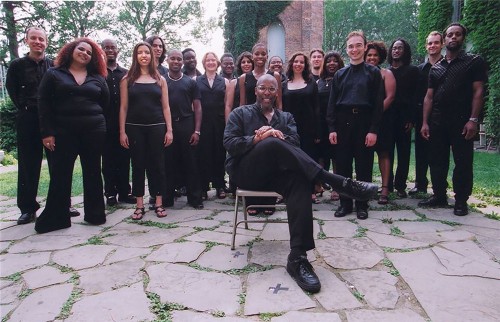 Just finished: Nathaniel Dett's oratorio The Ordering of Moses; up next, An Indigo Christmas, Dec 3, featuring Margaret Bonds' and Langston Hughes' The Ballad of the Brown King which honours the African king Balthazar, depicted as one of the three magi who came looking for Jesus, the newborn king.
Enlivening Toronto's arts community for 48 years, the award-winning Amadeus Choir offers up next Let Us All Be Merry, Dec 17, holiday favourites by Canadian composers with opportunities for you to stretch your lungs and join in the singing. This concert features Emerging Canadian Voices - the Choir's in-house octet of emerging professional choral singers led by Associate Conductor Nila Rajagopal.
Under the direction of Mark Vuorinen, one of Canada's finest professional choirs. Founded in 1980, it is the ensemble-in-residence of the Elora Festival for three weeks each summer. In addition to presenting a regular concert series they produce recordings touring across Canada and internationally. Up next: Handel's Messiah, Dec 4 at St Joseph's Church in Fergus; followed by their Festival of Carols, Dec 12 and 13; and Mar 5, in Kitchener, by Baroque Meditations, and Apr 2, in Guelph, Arvo Part: Passio.
Lydia Perović is an arts and culture writer in Toronto. Sign up to receive her newsletter at longplay.substack.com.