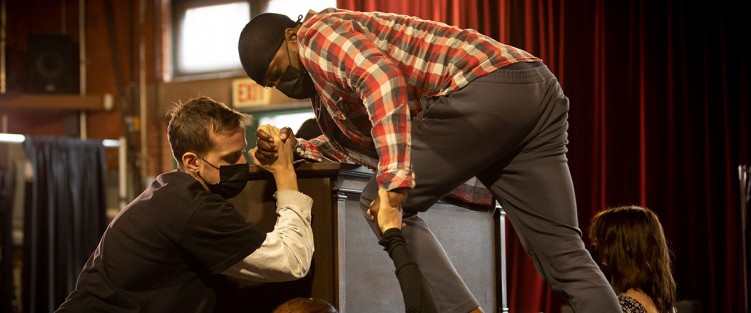 Ten years ago, I was inspired to adapt Fall on Your Knees as a piece of music-driven theatre," says director Alisa Palmer. On January 20, at the Bluma Appel Theatre in Toronto, that initial seed of inspiration will have its first public performance as a fully fledged two-part epic piece of theatre.
"History told with a thumping, complex narrative, a host of colourful characters and a great big bow to psychology" is how the Chicago Tribune described Fall on Your Knees, the multi-award winning 1996 novel by Canadian writer, playwright, and actor Ann-Marie Macdonald, that has been acclaimed around the world and translated into 23 languages.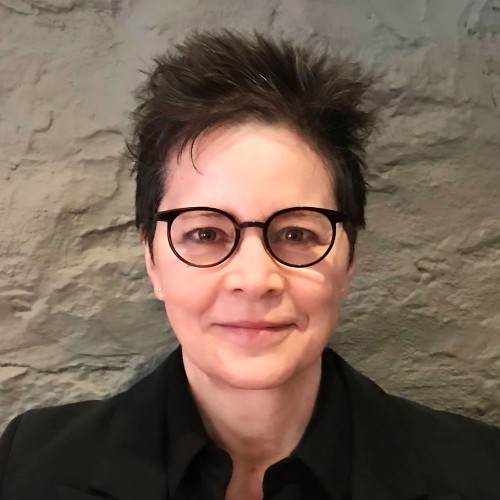 The book has an epic sweep. Chronicling the history of three generations of the Piper family through the variously fated lives of the daughters of an Irish-immigrant self-trained piano tuner, Fall on Your Knees begins in Nova Scotia's Cape Breton Island, with music in all its forms, from step dancing to folk music, interwoven through daily life. From its Cape Breton Celtic roots, the story's action is propelled forward by the music of the sisters' lives: the trench songs of WW1, Tin Pan Alley and on into the 1920s, exploring the emerging jazz scene of Harlem in New York when Kathleen goes to New York City in hopes of becoming a singer at the Metropolitan Opera.
Macdonald, herself, has said that the novel "began, in my mind, as a play. I ended up bringing the story to light as a novel but I've always cherished the vision of it as a three-dimensional experience for a live audience." Hannah Moscovitch, who is writing the script and co-adapting the novel with director Palmer says: "We wanted our adaptation to be a work of art and not just render the book onto the stage. That meant we needed a rigorous collaboration between all the artists working on the adaptation to make the show a music-driven, image-driven and story-driven experience."
Along with Palmer and Moscovitch, the team includes composer and music director Sean Mayes, a rising-star composer who works and teaches in Canada, the US and the UK. Known for his work on Broadway productions MJ (assistant conductor) and Hadestown (associate conductor), he was also, this fall, the music director and conductor of the world premiere of Mandela, a new musical about Nelson Mandela at the Young Vic Theatre in London, England.
As befits the story's scale, the adaptation also has an epic sweep, with 24 named roles distributed among 13 actors, one of whom, vocalist Maryem Tollar, in addition to the role of Mrs. Mahmoud, the sisters' maternal grandmother, also shares live musical duties with multi-instrumentalists Anna Atkinson and Spencer Murray.
So, what direction will the composer and adaptation team take with the music to drive the story? I am intrigued and looking forward to seeing (and hearing) what the team comes up with.
Produced in association with the National Arts Centre (Ottawa), Vita Brevis Arts (Toronto), Canadian Stage (Toronto), Neptune Theatre (Halifax) and the Grand Theatre (London), Fall on Your Knees will travel to Halifax, London and Ottawa immediately following its Toronto premiere. For more information, see canadianstage.com (Toronto run: January 20 - February 4, 2023).
Wringing Out the Old Before Ringing in the New
The past six months have seen an exciting resurgence of theatre as live performance has returned, including superb large scale musical productions of Damn Yankees at the Shaw Festival, Cabaret at the Stratford Festival and & Juliet at the Princess of Wales Theatre (Mirvish Productions), as well as top-notch medium-scale music theatre such as Choir Boy at Canadian Stage, to smaller shows such as the Festival Players' The Shape of Home and Golden Record at Soulpepper. There is a hunger from both sides – performers to perform and audiences to return to auditoria, whether wearing masks or not.
Now that the winter season is upon us holiday-themed productions are exploding across Ontario's stages – a chance to squeeze every last drop of fun out of the old year before bidding it a relatively fond farewell.
Traditional Fare
Sign of hope: the beloved west-end Toronto Pia Bouman School for Ballet and Movement is at last able to go back to their usual Nutcracker performance location at Humberside Collegiate for a full-scale production – a worthy flag bearer for the contingent of Christmas Carols and Nutcrackers out there. Neither show wins the prize for most productions though: there are at least 12 productions of Elf: the Musical, both professional and amateur, across the province. Suddenly extra popular this year, Elf: the Musical is based on the film Elf, with music by Matthew Sklar and book by Thomas Meehan and Bob Martin (of Drowsy Chaperone fame). The Grand Theatre's production of Elf: the Musical just lost a performance to multiple cases of COVID but we hope that this is just a blip and not a sign of things to come.
Two traditional seasonal offerings are on my must-see list this year: first, the stage version of Irving Berlin's White Christmas at the Shaw Festival, helmed by the dynamic team of director Kate Hennig and choreographer Allison Plamondon who brought us last year's Niagara-on-the-lake hit Holiday Inn. November 18 - December 23.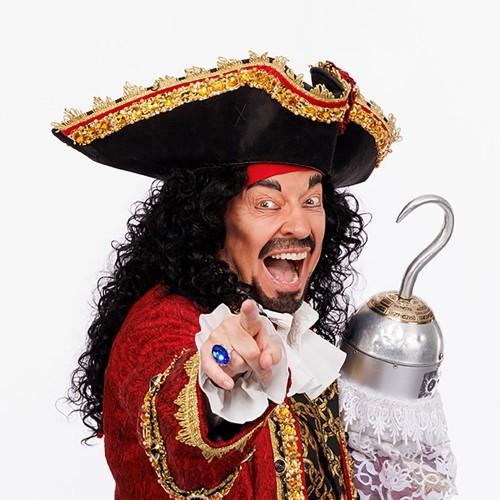 I also don't want to miss the always joyously anarchic panto from Ross Petty Productions, with its score of contemporary pop hits repurposed for fairy tale antics. An additional incentive is that Peter's Final Flight is a final panto bow by the production company. All the usual elements will be there: the bright young juvenile leads, the smiling villain just asking to be booed (Ross Petty himself as Captain Hook – a role he has said is one of his favourites) and that strange British tradition of the "dame" always played by a man – in this case Dan Chameroy returning in skirts as another audience favourite, Plumbum. Matt Murray writes the script again, and all is directed and choreographed by Tracey Flye, with music direction by Bob Foster. December 2 - January 7.
A little more offbeat
I find myself also looking for more unusual holiday offerings and several have caught my eye.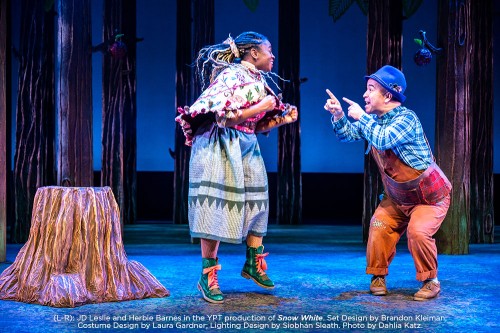 Young People's Theatre is presenting Snow White, in a revamped contemporary version exploring and not shying away from the problematic themes included in the original fairy tale but also promising fun and laughter and enjoyable singing and dancing by the alternating cast of two playing all 14 characters. November 21 - January 7.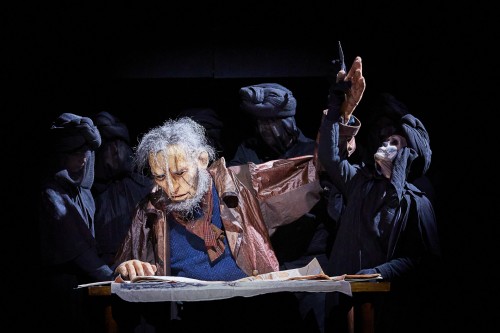 At Harbourfront, co-presented by Why Not Theatre, Moby Dick is coming into harbour in a production by the internationally acclaimed puppet theatre from France and Norway, Plexus Polair, led by artistic director Yngvild Aspeli. The highly dramatic novel has been adapted into an even more highly dramatic stage production that features fabulous life size puppets, a stunning visual design and an underwater orchestra. December 13 - 16.
At the Royal Alexandra Theatre, on the more traditional side of feel-good musicals but without the holiday theme, is Fisherman's Friends: The Musical. Based on the true story of a group of Cornish fishermen getting together to sing the traditional working songs they had sung for generations and being discovered by a fish-out-of-water music manager, the show tells the story of the group becoming chart-stopping sensations and ending up onstage at the Pyramid Stage at Glastonbury. Joyous performances of traditional Cornish folk tunes accompanied by traditional instruments are interwoven throughout. November 30 - January 15.
Ringing In the New
Looking ahead into 2023, three previously postponed musical productions are finally getting the chance to open, and I am circling them on my calendar right now.
In April the remount under the umbrella of Crow's Theatre of Yes Theatre's hit Sudbury production of Sondheim's Merrily We Roll Along will come at last to Toronto's East End. Sondheim fans like myself will be thrilled to get the chance to see this increasingly popular Sondheim musical which was a notorious flop on Broadway when it first debuted in 19981. Inspired by the 1934 Kaufman and Hart play of the same name, Merrily famously tells in reverse order the story of three friends and their rise to fame at the expense of the friendship that made it all possible. Dora award-winner Mitchell Cushman directs and the score is filled with favourites such as We've Got a Good Thing Going. April 19 - May 7.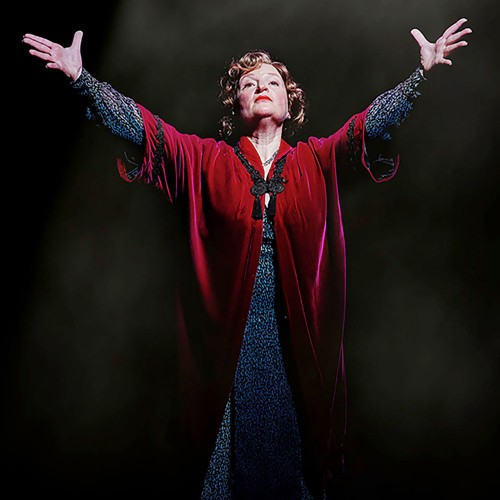 In May, the Shaw Festival's previously postponed production of Gypsy, starring Kate Hennig, will finally have the chance to open. The beloved musical, inspired by the memoirs of Gypsy Rose Lee, by Arthur Laurents (book), Jule Styne (music), and Stephen Sondheim (lyrics) is a wonderful vehicle for a singing actress. Famously first played by larger-than-life belter, Ethel Merman, Mama Rose has also been memorably played by Angela Lansbury, Tyne Daly, Bernadette Peters, and Patti LuPone among others. It is exciting to anticipate seeing the talented Kate Hennig's take on this legendary character. May 10 - October 7.
And finally, Kelly v. Kelly by Britta Johnson (music and lyrics) and Sara Farb (book) developed through the Musical Stage Company's Crescendo Program, and repeatedly postponed thanks to COVID, will at last get its world premiere in May. Based on a real story from 1915, this exciting musical tells the story of a 19-year-old heiress who after getting romantically entangled with a tango dancer finds herself being sued in court by her mother for "incorrigibility." I saw an early excerpt a few years ago presented by the now defunct Canadian Musical Theatre Project, and music, choreography and book were stunning, surprising and fun. May 26 - June 18. Canadian Stage Berkeley Street.
Jennifer Parr is a Toronto-based director, dramaturge, fight director and acting coach, brought up from a young age on a rich mix of musicals, Shakespeare and new Canadian plays.