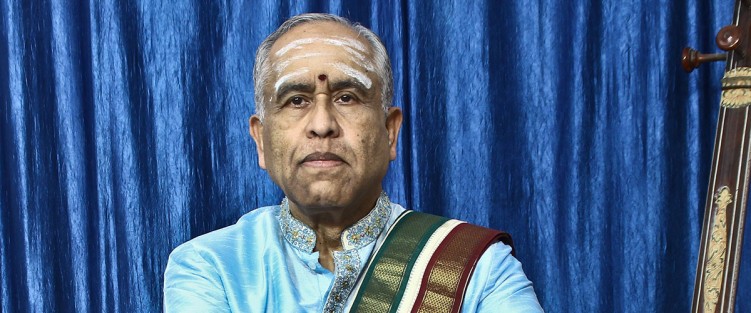 Let's start at the beginning. Trichy Sankaran was born on July 27, 1942 in Poovalur, Thiruchirappalli district of Tamil Nadu in southern India. Another significant date occurred 29 years later when the classically trained Indian drummer Sankaran took a momentous leap of faith across the globe, accepting a job teaching at the fledgling Music Department, York University. He arrived in 1971, retired in 2015. What he accomplished in between is the subject of the first part of this story, and the prequel to the second part.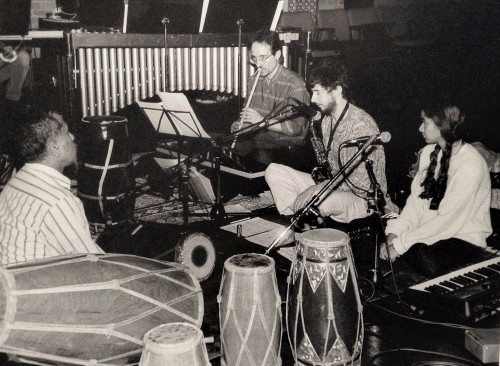 Indian music moves to Toronto
Fact one: the 1960s was a banner decade for Western public interest in Indian music. It was on LP, radio, TV and in live concerts across Europe and North America. Fact two: towards the decade's close, in the first months of 1969, American musicologist and choral conductor Sterling Beckwith, York University Music Department's new Chair, was busy setting up in what was then the wild northwestern outskirts of Toronto.
Beckwith's startup vision included creating opportunities for students to engage directly with music from cultures outside the Europe-centred tradition in which many were trained. He observed that Western audiences had long been captivated by the virtuosity of touring artists such as sitarist Ravi Shankar, and that Music of India courses were filling classrooms at US universities. So, why not Indian music at York too?
Enter the phenomenal young American baritone and ethnomusicologist Jon B. Higgins. A graduate of Wesleyan University's pioneering World Music program, Higgins received his initial training as a Carnatic vocalist there. By the late 1960s he had already toured in India, impressing connoisseurs with his vocal and linguistic prowess, and had released a Carnatic vocal LP, when Beckwith invited him to join the York Music faculty.
Requiring an accompanist in order to perform his repertoire, Higgins persuaded Sankaran to leave his family and a vibrant concert career in Chennai and accompany him to York. The two founded Indian music studies at York, among the first such programs in the country.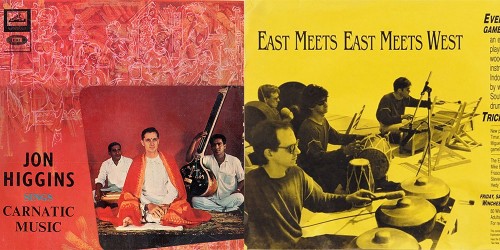 My own hybrid musical journeys: Carnatic studies meet gamelan concerts
When I first heard Higgins' premiere LP around 1970, the light of recognition switched on: the recognition that even as a neophyte I knew this was music I wanted to learn. Carnatic music is sometimes characterised as difficult to master, yet Higgins made it sound … natural. I was immediately drawn to his convincing bicultural musicality. A trip to India was however not on my itinerary.
Luckily I didn't have to wait long. On hearing that Higgins would arrive at York in the fall of 1971, I jumped at the chance to enroll in his first Carnatic vocal class. Later, I took mridangam lessons with Sankaran. It signalled the beginning of a long and fruitful relationship not only with Carnatic music but also with these teachers who became mentors, then colleagues and friends.
For example, in 1984 Sankaran was commissioned to compose Svaralaya, his first ensemble work. It was for Toronto's Evergreen Club Gamelan of which I was a charter musician and second Artistic Director. The composer was the soloist playing a set of five specially-tuned mridangams. Four subsequent challenging works for ECG followed over the next fruitful 25 years.
Then for over two decades beginning in 1994, Sankaran and I (on suling) performed as a duo in Toronto (New Music Concerts, The Music Gallery, York University, etc.), Ottawa (Museum of Civilization) and St. John's (Sound Symposium), before we formed Nada Rasa – a band which played concerts of our hybrid Java-meets-India-in-Toronto music into the 2000s.
Overlapping careers: Sankaran the virtuoso musician, composer, professor of music
The hybrid work Sankaran made with ECG and me is not at all unusual for him. He's often chosen to take the path less travelled – and often travelled it with musicians outside the Carnatic world. He's regularly collaborated with top percussionists such as Nexus; tabla masters Sharda Sahai and Zakir Hussain: Ghanaian drummer Abraham Adzenyah; John Wyre's World Drums, as well as many jazz, electronic and classical musicians. In 2020 I saw him and his daughter Suba Sankaran featured in Tafelmusik's memorable Toronto production The Indigo Project.
While Sankaran is a world-renowned percussion virtuoso and respected composer, he's also an Indian music scholar and educator. Over the years he has innovatively fused Carnatic and Western pedagogical practices and authored two books on Carnatic rhythmic performance, achievements recognized by the OCUFA Award presented to him by the Ontario Confederation of University Faculty Associations.
His influence over several generations of international students, some of whom have developed into noted musicians, composers and educators, can't be overstated. In 2011 he was honoured with the prestigious title Sangitha Kalanidhi for his contributions to the world of Karnataka music by the Madras Music Academy.
At 80, how is he celebrating his birthday? He's touring North American cities with a Carnatic ensemble as I write this. Those celebrations continue in his hometown with Trichy Sankaran at 80, a concert presented by Confluence Concerts at Toronto's Heliconian Hall on November 23 and 24. His talented daughter – vocalist, composer and educator Suba Sankaran – the curator of the concerts, shared some details.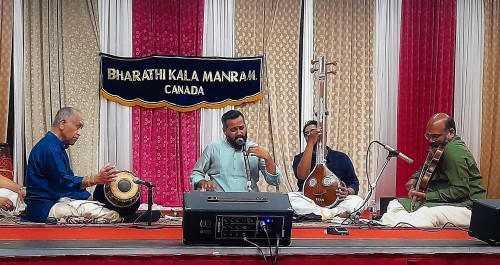 The packed 12-item program presents works primarily by Sankaran or other members of the bespoke ensemble featuring former Sankaran students and colleagues. The roster: Autorickshaw (Dylan Bell on bass/beatboxing, Ed Hanley on tabla, Suba Sankaran on voice and vocal percussion); Andrew Craig (piano); Curtis Andrews (percussion); Bill Parsons (guitar/kacapi), Russell Hartenberger (percussion), Ken Shorley (percussion) plus Trichy Sankaran. I'm also making an appearance as compiler and suling (West Javanese ring flute) player.
These musicians were chosen because they represent various projects in Sankaran's long, illustrious career. For example, Hartenberger of NEXUS was a member of the percussion super group World Drums with which Sankaran toured internationally for years. Hartenberger will lead the ensemble in Steve Reich's 1972 minimalist masterwork Clapping Music.
Bill Parsons and I represent Evergreen Club Contemporary Gamelan for whom Sankaran composed groundbreaking works fusing Indonesian and Indian musics. While Members of Autorickshaw alongside Ken Shorley, Andrew Craig and Curtis Andrews are all former students and Sankaran collaborators, this concert marks the first time they're together on stage. There will also be a pre-concert chat followed by a 10-minute video detailing Sankaran's biography with musical illustrations.
Full circle
On October 8, 2022, Sterling Beckwith spoke at the Sankaran @ 80 Felicitation event at the Canada Kanthaswamy Temple in Scarborough. "Sankaran has never failed to honour his roots, even while his circle of influence grows ever wider" Beckwith said. "His artistry in performance is always surprising, always responsive, always appropriate. His appearances around the world have won him the highest professional recognition as the very model of an authentic classical Carnatic virtuoso. At the ripe age of 80, he shows no signs of slowing down. Indeed, he's still touring, still exploring new challenges, still going strong...
"Who needs Trichy Sankaran?" A pause. "We all do!"
Andrew Timar is a Toronto musician, composer and music journalist. He can be contacted at worldmusic@thewholenote.com.