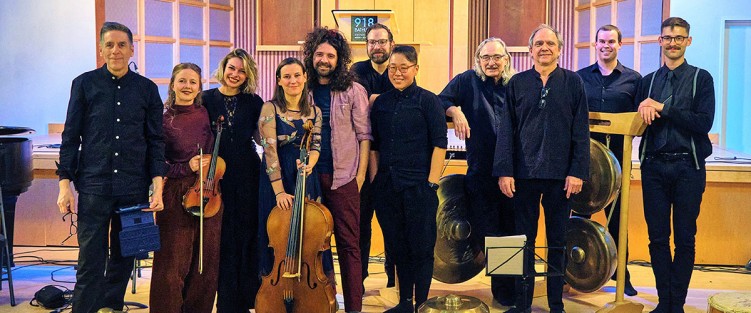 On a cold snowy night last November 19, I was happy to be in the warmth of the Music Gallery at 918 Bathurst Street, listening to the bright pulsating music of an inspiring collaboration between Toronto's Evergreen Club Contemporary Gamelan and the Spindle Ensemble from Bristol, UK (a collaboration that arose from a chance meeting in Bali between Evergreen member Christopher Hull and Spindle member Harriet Riley, we had been informed). I was curious.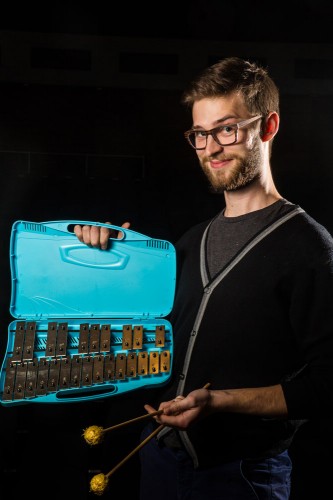 Chris Hull: Hull's connection to gamelan music, he told me, began when he was an undergraduate percussion student at Wilfrid Laurier University. In 2013, the University of Waterloo hired ethnomusicologist Dr. Maisie Sum who subsequently began a gamelan ensemble. Encouraged by his father to check it out, and despite his initial hesitation, Hull found himself falling in love with the sound and the experience of playing a very different kind of percussion music. Eventually Sum's husband, I Dewa Made Suparta – an internationally renowned Balinese performer and composer who co-founded one of Bali's most innovative gamelan ensembles named Çudamani – took over the group. Interacting with Suparta really "sparked the flame for me," Hull said. "He was such a joy to play with and answered a lot of questions I had about Western percussion music, which really hasn't found its identity yet. In comparison, gamelan music has a context in the history that makes it feel more worthwhile."
Suparta encouraged Hull to apply for a year-long scholarship program to study in Bali, but Hull decided to pursue a master's degree in percussion performance at the University of Alaska first. It was only after he returned home to Waterloo and heard the gamelan rehearsing that he decided he just had to go to Bali and "see the place that made this music."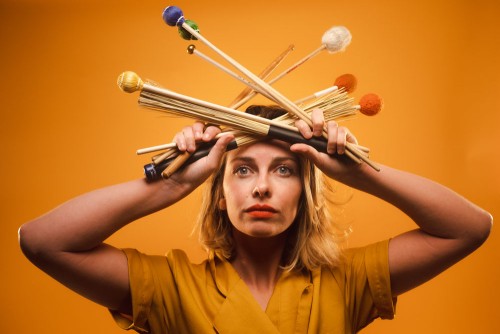 Harriet Riley: Riley found her way to the same program in Bali midway through the year, albeit only for a few weeks, and the two musicians made a strong connection, remaining friends after they returned to their respective homes.
I reached out to Riley to learn more about this fortuitous meeting in Bali. "Darma Siswa is a year-long course which Chris and Saj Landley, my UK gamelan teacher did. I just went, on Saj's recommendation, for three weeks, on the way to a gig at Perth International Arts Festival, Australia. Chris and I met at a gamelan group called Narwastu which was mostly made up of people from the Darma Siswa program but was open to anyone." She and Hull became instant best friends, she says, "along with another amazing gamelan player, Tom Nolan, also from England. I became particularly interested in a 'chamber music' style of gamelan, which Chris and Tom were studying, called Gender Wayang, which is used for many ceremonies in Bali as well as the Wayang puppet shows."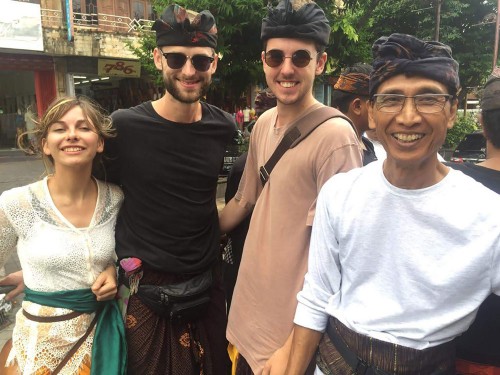 Serendipity: Another "crazy story of serendipity," as Riley described it, moved the story along. It happened a few weeks after Riley's return to Bristol from Perth. During a Spindle Ensemble concert at St George's Bristol, a world-class independent music venue in Bristol, a man from the audience asked a question (about Frank Zappa/Ruth Underwood) during the Q+A. "We got chatting after the performance," Riley explained, "and he said his nephew was studying gamelan in Bali, and the penny dropped. I knew that Chris had an uncle in Bristol, but I had no idea who he was, and now there he was! I'd just been spending every day with his nephew, Chris, for three weeks playing gamelan together, haha!"
The idea for a concert collaboration however was still down the road. Hull had been hired at the last minute by Evergreen Club Contemporary Gamelan to perform during their 2018 tour to Germany and it was at this point he became part of the ensemble. "It felt like getting called up to the big leagues to play with all my teachers," he told me during our conversation. In 2020, the original members of ECCG began thinking about the future of the ensemble and the passing of the torch to a younger generation of players. Hull was approached as one person to be part of this transition team, a process that would take place over five years; one of the team's tasks in this new role was to come up with their own project ideas.
The idea of collaborating with another ensemble came while Hull was driving home after a rewarding ECCG joint concert in Montreal with Sixtrum Percussion. "I was thinking how the best music is based on good interpersonal relationships," Hull said. It was a proverbial lightbulb moment: Hull thought of Riley and the Spindle Ensemble. Hull was already a fan of their music; the fact that their album Inkling had made The Guardian's list of ten best contemporary albums of 2021 made the idea even more enticing. The invitation was extended and grants were sought and received to make it all happen. Once Spindle arrived in Toronto, the two ensembles spent a week together, rehearsing essentially all new repertoire. Some pieces were already fully written, while others required collaborative workshopping. During their time together, they also recorded the repertoire for potential release in the future.
The concert began by featuring each of the two ensembles performing their own repertoire. The ECCG performed their arrangement of Samagaha by composer and suling master Burhan Sukarma, the group's artist in residence in 1993. Samagaha features extensive solos for suling (played by Andrew Timar), and the kecapi (Sundanese zither) played by Bill Parsons. The Spindle Ensemble performed two of their pieces, from the Inkling album, that were created by the ensemble, which, in addition to Riley on marimba and vibraphone, features Daniel Inzani (piano), Caelia Lunniss (violin), and Jo Silverston (cello). The rest of the evening combined compositions by Andrew Timar, Daniel Inzani, Daniel Morphy (ECCG) and Harriet Riley.
From Riley's perspective, the collaboration was "a fantastic opportunity, as both Spindle Ensemble and Evergreen are groups which take influence from a wide range of musical traditions and involve them in a contemporary classical context. Evergreen also has the improvisational capacity we have, as well as having an unusual combination of instruments."
One of the overall impressions I had of these various compositions was how each composer played with the different sonorities of the two groups as well as the different tuning systems. One example of this occurred when similar material would be played by one group, followed by a repetition of the material in the other group. Overall, the music was lively, energetic and vibrant, bringing a youthful pulsation and spirited tone to the evening.
NEW MUSIC QUICK PICKS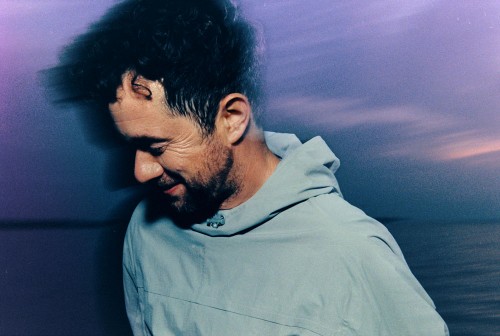 21C Festival: In the November issue, I wrote about the Kronos Quartet returning to Toronto from December 6 to 9 to present a series of performances originally scheduled for January of 2022. In fact, this concert is an early kickoff to the tenth anniversary edition of the 21C festival that runs primarily in January, from January 20 to 29, commencing with a concert by Montreal's post-classical pianist and composer Jean-Michel Blais. As in the past, the festival features numerous premiere performances – at least 18 – including world premieres by James O'Callaghan, Ian Cusson, Stewart Goodyear, Alice Ho and Andrew McAnsh.
In the spirit of Kronos' Fifty for the Future project – a series of 50 commissioned works designed to introduce young string players to various contemporary music – which I have written about before, American classical cellist Alisa Weilerstein will give the world premiere of the first two instalments from her Fragments project. The overall vision is to weave the 36 movements of Bach's solo cello suites with 27 new commissions to make six programs, each an hour long, for solo cello. The idea to do the project came to her during the COVID-19 lockdown when she was considering how we connect and reconnect with each other. The composers she has chosen to commission range in age from 26 to 83 and represent a range of diversity of gender, race, geography and compositional approach.
Contemporary Orchestral Works: The coming winter's orchestral programming includes a number of contemporary compositions in programs mixed with classical repertoire. I've made a list here for easy access:
JAN 20, 7:30PM: Toronto Symphony Orchestra: A world premiere by Gary Kulesha titled Fourth Symphony.
JAN 20, 8PM: Sinfonia Toronto: Marjan Mozetich's Concerto for Bassoon & Strings with Marimba
JAN 21, 8PM: Kitchener-Waterloo Symphony: A composition by UK composer Thomas Adès (UK) titled Three Studies from Couperin.
JAN 22, 2:30PM: Niagara Symphony Orchestra. Two contemporary works on the program: Pizzicato by Vivan Fung and Viola Concerto by Latvian composer Pēteris Vasks.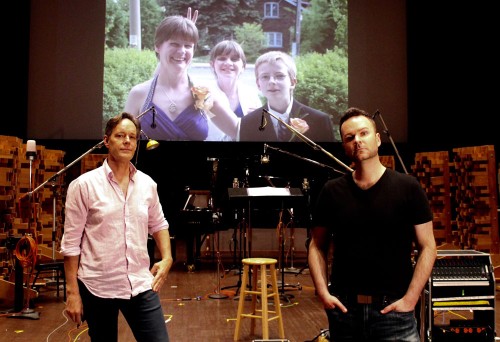 FEB 11, 8PM: National Arts Centre Orchestra presented by the Toronto Symphony Orchestra: A song cycle composed by Jake Heggie based on original poetry by Margaret Atwood, this NACO collaboration with Canadian baritone Joshua Hopkins presents the emotionally intense work, Songs for Murdered Sisters. The program will also include a new concerto grosso by Odawa First Nation composer Barbara Assiginaak.
Wendalyn Bartley is a Toronto-based composer and electro-vocal sound artist. sounddreaming!@gmail.com.