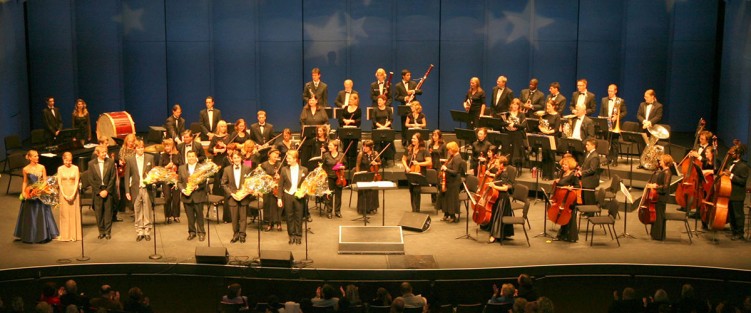 As the calendar crawls through November en route to the December holidays and the sun has not even begun its long trek back to seasonal dominance, it's a ray of hope to peruse the listings and discover how, throughout the community, live music by large ensembles is reasserting its presence after being completely uprooted by the pandemic. Take, for example, the orchestral explosion on December 10, when seven orchestras brighten up the evening in concerts beginning between 7 and 8pm.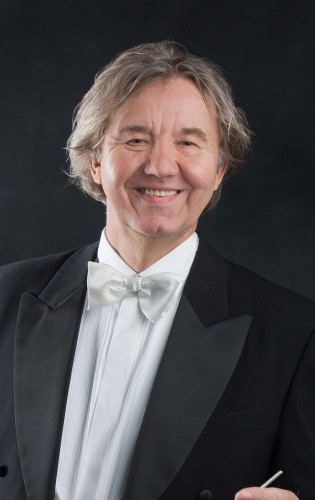 Andrzej Rozbicki was the bassoon player and conductor of the Bremen Symphony Orchestra, and music director of the Westerstede Stadtorchester, in Germany from 1983 to 1985. In 1985, the Polish-born-and-trained Rozbicki moved to Canada and began teaching music with the TCDSB (Toronto Catholic District School Board). Along the way, he established the Brampton Symphony Orchestra and was their conductor for five years. He then founded the Celebrity Symphony Orchestra in 1994, becoming its artistic director and conductor. The Celebrity Symphony Orchestra returns to the Living Arts Centre in Mississauga with a joyous Christmas event on December 10, featuring Christmas melodies, arias, songs and dances. Topping the program is pianist Daniel Vnukowski as the soloist in Addinsell's Warsaw Concerto, which the world first heard in the anti-Nazi 1941 film, Dangerous Midnight, about the Polish struggle against the German invasion of Poland.
For this concert, the orchestra welcomes singers from Covent Garden and Milan's La Scala: tenor Krystian Krzeszowiak and soprano Natalia Rubiś; from Lublin, Poland's Music Theatre, Dorota Szostak and Jakub Gąska; Canadian-Spanish renowned tenor Romulo Delgado, and Ukrainian sopranos Lesya Marchuk and Mira Solovianenko.
Counterpoint Community Orchestra (CCO) has been operating as a community orchestra in downtown Toronto since 1984. According to their website, it was the first 2SLGBTQIA+ orchestra in Canada and in the world. Counterpoint is a full symphony orchestra with a repertoire drawn from the Baroque through to the contemporary period. At their Holiday Concert on December 10 in Rosedale United Church (159 Roxborough Drive), the CCO will perform with soloists, soprano Rebecca Gray and clarinettist Helen Li. The concert will include music by Humperdinck, Handel, Mozart, Britten and the premiere of Journeys, for Angela Swan, a piece composed by CCO member Andrew McClure.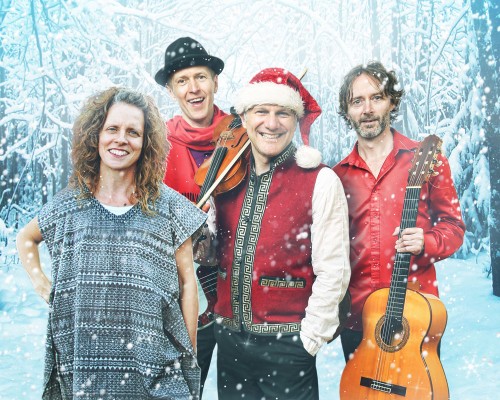 The Niagara Symphony Orchestra (NSO) has been an arts leader and cultural treasure in the Niagara Region for over 70 years. Established in 1948 as the St. Catharines Civic Orchestra, the organization has grown from a small community ensemble into a fully professional orchestra of over 50 musicians. A commitment to excellence and innovation has marked the tenure of current musical director, Bradley Thachuk, whose leadership since 2010 has increased the orchestra's regional profile. For their Christmas Caravan – a trip around the world in one December night – the NSO welcomes the Sultans of String to a festive holiday concert in St. Catharines' Partridge Hall, with special guests, the Laura Secord Secondary School Chamber Choir, under the direction of Katryna Sacco.
Playing a live soundtrack to a beloved movie has become de rigueur for most North American orchestras these days and the Toronto Symphony Orchestra (celebrating their 100th year) is no exception. Full of Yuletide cheer, Elf (2003) follows Buddy (Will Ferrell) who was accidentally transported to the North Pole as a toddler and raised among Santa's elves. John Debney conducts his own score as Buddy travels to New York in search of his biological father – all on the big Roy Thomson Hall screen.
The University of Toronto Symphony Orchestra's December 10 concert in the MacMillan Theatre features winners of the UTSO Concerto Competition. Conductor Uri Mayer takes the podium in this talent showcase with winners Britton-René Collins, marimba (2020); Alex Hetherington, mezzo-soprano (2022); Kyle Orlando, trombone (2019); and Anastasia Kulikova, piano (2020). The program includes Golovko's The Russian Marimba Concerto, Lieberson's Neruda Songs, Grøndahl's Concerto for Trombone and Rachmaninoff's Piano Concerto No.2 in C minor, Op.18.
Founded in 2008 and made up of professional, amateur, and university and high school student musicians, this year's Richmond Hill Philharmonic Orchestra's "A Magical Holiday" features some special music to celebrate the festive season: The Polar Express, The Magic of Christmas, 'Twas the Night Before Christmas, Oy Hanukkah and Victor Hely-Hutchinson's A Carol Symphony (1927). Under conductor/music director Jessica V. Kun, the audience will have the opportunity to sing along with the orchestra, in the Richmond Hill Centre for the Performing Arts on December 10.
Kristian Alexander founded Kindred Spirits Orchestra in 2009 and he remains its artistic director and principal conductor. On December 10 in the Flato Markham Theatre, KSO presents a concert of programmatic music beginning with Honegger's Pacific 231; Jing Ye narrates (with her violin) the Chinese Romeo-and-Juliet folk tale, The Butterfly Lovers, a story of broken hearts set to music composed by He Zhanhao and Chen Gang in 1958, merging Eastern melodies with Western instruments. Icing on the cake: a mischievous puppet comes to life in Stravinsky's exhilarating score to the ballet Petrushka.
One not to miss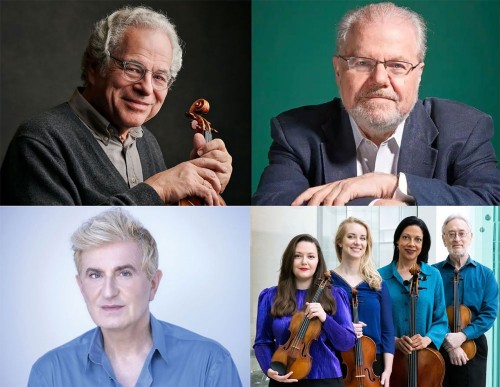 In what promises to be one of the highlights of the year, Itzhak Perlman & Friends take the stage of Roy Thomson Hall on December 12. The program was conceived by the Juilliard String Quartet's first violinist Areta Zhulla and the late Roger Tapping, violist of the Juilliard, along with violin virtuoso Perlman, as an opportunity to perform the Ernest Chausson Concert for Violin, Piano and String Quartet, together. Tapping died in January 2022 before he was able to see the project to fruition, but Perlman picked up the curatorial slack; esteemed musical friends, pianists Emanuel Ax and Jean-Yves Thibaudet and the Juilliard, rallied round to see the project through. In addition to the Chausson, the program includes Leclair's Sonata for Two Violins in E Minor, Op.3 No.5 and Mozart's Piano Quartet No.2 in E-flat Major, K493.
And in the New Year
Sheku Kanneh-Mason is the brightest star of the seven talented children of Stuart Mason and Kadiatu Kanneh. Mason came to the UK from Antigua; Kanneh was born in Sierra Leone and grew up in Wales. On January 20 and 21, Sheku will be the soloist with the TSO conducted by Peter Oundjian performing Elgar's Cello Concerto. Speaking with The Big Issue about the music that made an impression on him growing up, Sheku named Jacqueline du Pré playing Elgar (with Daniel Barenboim). As a child, he says, "I tried to imitate her movements, of course not making the same sounds. I was moved by how directly and honestly she played." In an interview from In the Green Room in June 2021 he said that the Elgar concerto was probably the piece of music he's listened to the most since he was a child and the piece that inspired him to play the cello. "It's one of those pieces that makes me cry every time – it's magical."
Meanwhile on January 21 and 22, Canadian star-in-the-making cellist Cameron Crozman is the soloist in Tchaikovsky's charming Variations on a Rococo Theme. Nuno Coelho conducts the Kitchener-Waterloo Symphony.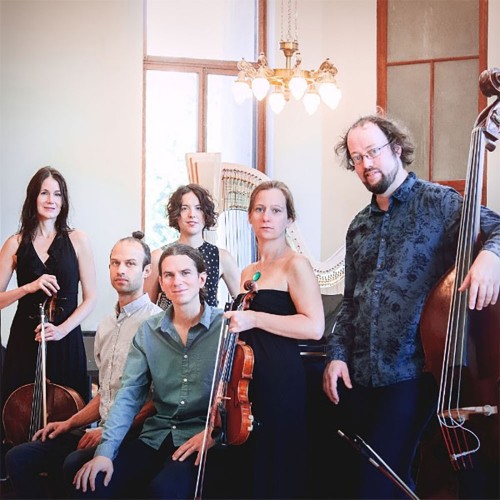 After examining the music of Satie and Debussy, the six-member Cordâme ensemble continues its exploration of French composers with Maurice Ravel. Composer and double bass player, Jean Félix Mailloux, has composed pieces inspired by Ravel's impressionist universe and adapted several of his most famous pieces. At the crossroads of chamber music and jazz, Cordâme's music creates marvellous sound images, many of which will be heard at the Alliance Française Spadina Theatre, on January 21.
Leif Ove Andsnes, occasional two-piano partner of Marc-André Hamelin, makes his long-awaited Koerner Hall debut on January 26 in a program with music by Dvořák, Janáček and Beethoven's indelible Piano Sonata Op.110.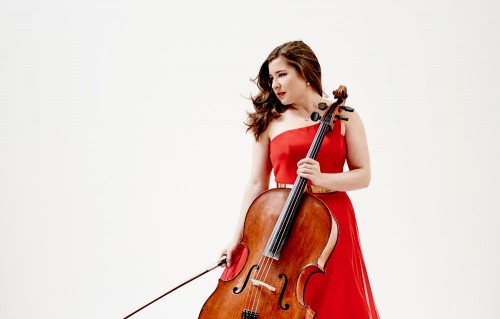 Recognized with a MacArthur "genius grant" Fellowship in 2011, Alisa Weilerstein is one of the foremost cellists of our time. Fragments – her new, multisensory solo cello project that weaves together new commissions and unaccompanied Bach – premieres at Koerner Hall on January 28. The groundbreaking, multi-year project stitches together the 36 movements of Bach's solo cello suites with 27 newly commissioned works. The resulting collection is divided into six Fragments, each an hour long and blending five to six composers, to be released independently over several seasons.
Here, in alphabetical order, are the 28 composers: Andy Akiho, Johann Sebastian Bach, Courtney Bryan, Chen Yi, Alan Fletcher, Gabriela Lena Frank, Osvaldo Golijov, Joseph Hallman, Gabriel Kahane, Daniel Kidane, Thomas Larcher, Tania Leon, Allison Loggins-Hull, Missy Mazzoli, Gerard McBurney, Jessie Montgomery, Reinaldo Moya, Jeffrey Mumford, Matthias Pintscher, Gity Razaz, Gili Schwarzman, Caroline Shaw, Carlos Simon, Gabriela Smith, Ana Sokolović, Joan Tower, Mathilde Wantenaar, Paul Wiancko.
For the first time in over 100 years, the world-renowned Chicago Symphony Orchestra returns to Toronto. Two different concerts, February 1 and 2, mark the finale of their North American tour and Riccardo Muti's final tour as music director and conductor after 13 years with the CSO.
On February 1, Beethoven's Symphony No.7 in A Major, Op.92 – which Wagner called "the apotheosis of the dance" – is pure rhythm from start to finish. It's followed with Prokofiev's elegant Symphony No.5 in B-flat Major, Op.100, which Prokofiev began composing on D-Day, later writing that it was "a symphony of the greatness of the human spirit, a song of praise of free and happy mankind," On February 2, the CSO will perform Beethoven's Coriolan Overture, Op.62 and Symphony No.8 in F Major, Op.93 plus Liadov's The Enchanted Lake and Mussorgsky's Pictures at an Exhibition (arr. Ravel).
Take this remarkable gift for what it is – an opportunity to hear what Gramophone magazine calls the best orchestra in the USA and the fifth best in the world.
Paul Ennis is the managing editor of The WholeNote.