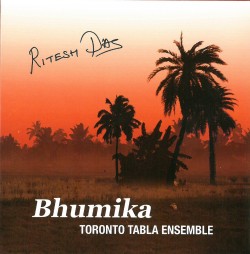 Bhumika
Toronto Tabla Ensemble
Independent (torontotabla.com)
Bhumika, a rich philosophical Sanskrit term, derived from bhūmi meaning earth or soil, can refer to a writing surface, receptacle, or an introduction to a book, among other things. Bhumika is also the title of the Toronto Tabla Ensemble's sixth album and its first track. Composed by TTE's artistic director and tabla educator Ritesh Das, the title track, featuring a chanted Sanskrit sloka, is dedicated to Ritesh Das' brother the influential kathak dancer and teacher Chitresh Das (1944-2015). The liner notes also acknowledge another key artistic inspiration, Swapan Chaudhuri who is among today's outstanding tabla masters.
Bhumika the album reflects the richness of the tabla's extensive technique, repertoire and the complexity of Indian rhythmic practice: the album features talas (rhythmic cycles) of 5½, 9½ and 11 beats. It also speaks to Ritesh Das' larger artistic ambition to engage culturally with his Toronto home and collaborate with other resident musical cultures and musicians. For example, instruments heard on the album include ritual Indian conch trumpet, finger cymbals, Hindustani tabla and sarod, Carnatic mrdangam, but also drum kit, violin, Chinese zheng, flute, and the Japanese taiko ensemble Nagata Sachu. Most of them are played by Toronto area musicians, some of whom are students of Das.
For me the strength of this album is the convincing argument it makes for the tabla forming the core of a musically compelling drum-centric ensemble in 2018 Toronto, far from its (first) homeland. Before Das dreamed it in 1991, that did not exist.