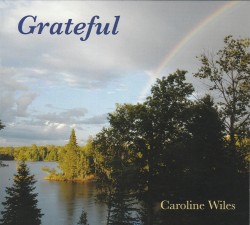 Grateful
Caroline Wiles
Independent (carolinewiles.com)
Ontario-based, self-taught musician and songwriter Caroline Wiles performs her musical heart out with lush lead and harmony vocals, and clear guitar/harmonica playing in her fifth release, Grateful. Nine tracks are her own compositions, which run the sound spectrum from 60s-70s-80s' flavoured pop to country, and one Gordon Lightfoot cover, all recorded by her longtime Hamilton, Grant Avenue Studio producer/bassist/multi-instrumentalist Bob Doidge.
Wiles' melodies and storytelling lyrics are heartwarming. A highlight is the earworm title track Grateful, dedicated to her sister, featuring positive real-life sentiments like "I am so grateful for you," a feeling we can all relate to. Make a Memory with Me is an upbeat 70s tune with wide-ranging high/low pitched vocals and singalong la-la-la sections. What Could Have Been is a radio-friendly pop song with a solo voice alternating with her own group vocals singing "I may never win" to a final held note. Country style Lovey Dovey, has solo and full harmonic sung sections and full band instrumentals featuring Shane Guse fiddle backdrop and solo interludes. It is so admirable that Wiles has recorded her first-ever cover, Gordon Lightfoot's Talking in Your Sleep, as a respectful tribute to the Canadian icon. Her perfect diction and vocal colours are emotional as bandmember Amy King's vocal harmony/solo piano stylings keep the mood. Lightfoot has complimented Wiles for all her performances here.
Precise intonation, smooth rich vocal colour, enthusiastic instrumental performances and easy listening songs make Grateful a release for listeners of all ages.