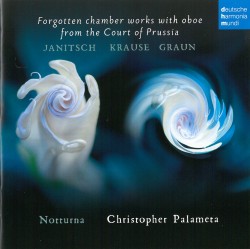 Forgotten chamber works with oboe from the Court of Prussia
Christopher Palameta; Notturna
Deutsche Harmonia Mundi 19075821552 (naxosdirect.com)
The Montreal-born, Paris-based musician Christopher Palameta is widely fêted for oboe performances that are suffused with equal amounts of aesthetic beauty and historical rigour. Working since 2007 to broaden world understanding and appreciation for the music of German Baroque composer Johann Gottlieb Janitsch, Palameta has mined Janitsch's repertoire, finding rarely heard chamber pieces that are now welcome additions to the canon of Baroque works. Collaborating on record here with the chamber music collective Notturna – which Palameta directs – Janitsch's music, along with selections by Johann Gottlieb Graun and the little-known Christian Gottfried Krause, are captured beautifully on this 2018 release. The recording is certain to expand Palameta's reputation as a singular musician dedicated to 18th- and 19th-century period piece work that showcases the oboe, and should be greeted enthusiastically by fans of early music.
Although music from this era could certainly be opulent and regal – the decorative ornamentations of the melodic line mirroring the exaggerated royal lifestyle, dress and mannerisms –Janitsch plumbs a galant style that fetishizes authenticity and aims for a return to more simple music-making practices. In fact, blurring the lines between the professional and amateur, Janitsch led community-wide sessions for musicians at a variety of levels to perform together called "Freitagsakademien" (Friday academies).
Like many composers of the Baroque era, Janitsch was indentured to royalty (in this case Frederick the Great, King of Prussia) and while his compositional style reflected the changing aesthetics of this time period, his considerable output was well supported by Frederick's strong patronage of the arts and music. Thanks to Palameta, Jan Van den Borre, Catherine Martin, Emily Robinson and Brice Sailly, this important and underrepresented music lives on for future audiences.