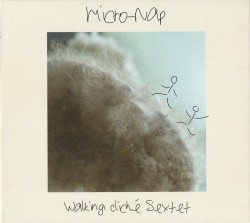 Micro-Nap
Walking Cliché Sextet (SeaJun Kwon)
Endectomorph Music EMM-013 (seajunkwonmusic.com)
Have you ever been drifting off into a much needed, deep afternoon nap; still lingering in that in-between state that acts as a transition from wakefulness to dreamland? These types of liminal spaces, where uniformity and chaos coexist are what the Walking Cliché Sextet attempt to reflect within their music on this latest release. Korean-born, New York-based composer, bassist and improviser SeaJun Kwon, has always been fascinated by liminal spaces and the duality within them and so decided to gather a fantastic group of musicians and classmates to give this concept a musical voice. Featured in the backing band are rising stars such as Aaron Dutton on alto sax, Jacob Shulman on tenor sax and Erez Dessel on piano.
Throughout the album, songs reflect that aforementioned duality incredibly well; even allowing for a clear image unique to each piece to be called forth in the listener's mind. Muad'dib is a track where dissonance and consonance, peace and chaos co-exist, taking the listener on a true dream-like journey. Possibly most intriguing, intense mental imagery aside, is the way that both traditional and modern aspects of jazz have been incorporated into the pieces and how they peek through; constantly toeing the line between the familiar and unfamiliar. A truly unique example of contemporary, experimental jazz, this album would be a great addition to the collection of the adventurous aficionado.