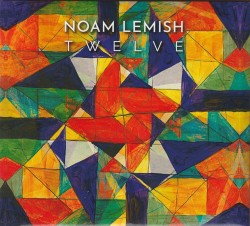 Twelve
Noam Lemish Twelve
Three Pines Records TPR-0012 (noamlemish.com)
When a ten-year labour of love comes to fruition in a beautifully designed CD, all that's left to do is hold your breath and send it out into the world. Well, pianist/composer Noam Lemish can certainly heave a huge sigh of relief because his latest project, Twelve (the aforementioned labour of love), is exquisite.
During his doctoral studies, Lemish composed some of the music on Twelve while composer-in-residence with U of T's then newly formed jazz 12tet. And now, leading his own 12tet – an all-star chamber orchestra of Canadian jazz artists – in a recording of six original, innovative, cross-cultural, captivating, expansive and evocative compositions, professor Lemish is in his element.
While solidly grounded in the jazz idiom and Western classical music, influences from Lemish's Israeli roots and Eastern European Jewish heritage – it turns out he has serious Romanian klezmer cred – appear throughout the CD. How else to explain the magnificent Beethoven's 7th Visit to Romania, complete with 13-voice choir and outstanding solos by half the band? Or Between Utopia and Destruction, which invokes, poignantly, two "lost world" melodies by Soviet Jewish composers?
Perhaps The Nagila Mayster says it best. A title drawn from English, Hebrew and Yiddish and roughly translating into "The Master of Joyfulness," it showcases Lemish's richly creative and diverse musical journey.
Twelve is indeed a masterful expression of joy. Space limitations prevent my naming all 12 stellar musicians involved, so you're just going to have to explore this superb album for yourself.