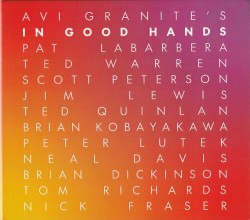 Avi Granite's In Good Hands
Avi Granite; Various Artists
Pet Mantis Records PMR015 (avigranite.com)
Suffice to say, Avi Granite is in good hands with this one. The concept of this record is one of humility and gratitude, with Granite enlisting his distinguished friends in the Canadian jazz scene to interpret 11 of his compositions. Granite strictly plays the role of sonic curator on this album, and while one could argue, it's difficult to fall short when working with such talent, In Good Hands proves that a steady hand can go a long way.
In this reviewer's mind, the biggest concern before listening was whether a scattered project of this nature could earn the "album" qualifier. An album is a collection of songs, sure, but there also normally exists a unifying logic that connects the various parts comprising an overall sum. If there are dissonances in this regard, they are intentional, or they unintentionally add intrigue to the overall atmosphere.
In Good Hands is an example of everything falling into place. For starters, the way Granite sequences the tracks is nothing short of brilliant. Going beyond mere aesthetics, there is not only an even distribution of the specific instruments, but if one were to display images of all 11 sine waves alongside each other, they alone would tell a story. It is truly a revelation how many different ways there are to interpret a composition. Ted Quinlan makes Like John sing triumphant, while Nick Fraser's Critical Eddie is a modest detonation in a wormhole.