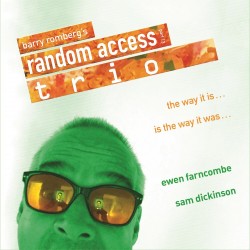 the way it is… is the way it was…
Barry Romberg's Random Access Trio
Independent (barry-romberg.com)
Read the Review
In his brief and somewhat self-deprecating album notes Barry Romberg says he "lost (his) mojo for creative recording pursuits" – something that lasted nine long years. However, listening to the music of The way it is… Is the way it was by Barry Romberg's Random Access Trio it is hard to think that anything was really lost. Romberg's sense of propulsion and of time is – if anything – more effervescent and masterful than ever.
Using two harmonic instruments – the keyboard(s) played by Ewen Farncombe and guitar by Sam Dickinson – Romberg creates the effect of firing on multiple musical cylinders. Those cylinders do not necessarily equate to one-each for pianist and guitarist with the rest for Romberg. While it is true that it appears that the rolling thunder of the drums and the hiss and swish of Romberg's cymbals make much of the delightful noise of the music. The young musicians bring a refreshing energy to songs such as Rocks on Rocks and the two-part suite We Want Miles (which also features old pal Kelly Jefferson on soprano and other saxophones).
To be correct, Dickinson also creates a myriad of electronic effects that add not just atmospherics, but also genuine harmonic riches to the music. Moreover, without much of a break in the proceedings from track to track, you feel a kind of wonderfully expansive and meaningful effect of music that is anything but randomly accessed.